Worker Still Seriously Ill After M3 Crash
18 June 2013, 13:06 | Updated: 30 March 2016, 13:50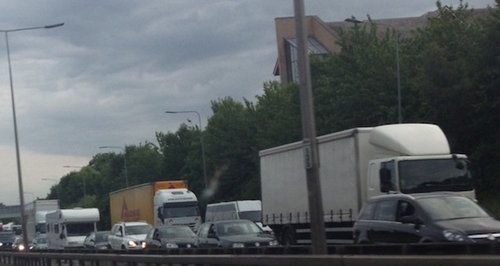 A man from Derbyshire's still seriously ill after three maintenance workers were injured in a crash on the M3 at Eastleigh.
At around 3.10pm on Monday, June 17th, an articulated lorry travelling north crashed into three maintenance vehicles between junctions 13 and 12.
The maintenance vehicles, two vans and a flat bed lorry, were stationary on the hard shoulder at the time.
Three maintenance workers were injured. One, a 54-year-old man from Derbyshire remains in a serious condition in hospital.
The others, a 41-year-old man from Derbyshire and a 43-year-old Southampton man suffered less serious injuries.
The driver of the articulated lorry, a 58-year-old Birmingham man, was arrested on suspicion of careless driving and bailed until September 24.

All three lanes of the northbound carriageway were closed until around 4.20pm when lane three was re-opened. Police handed over the scene to the Highways Agency shortly after 10pm. Lanes one and two and the northbound on-slip at junction 13 remained closed overnight but reopened before 6am.

Sergeant Barry Long from the Whitchurch Roads Policing unit said:

"I'd like to thank motorists who were caught up in the delays around Eastleigh and on the motorways as a result of the road closures.

"The decision to close a motorway is never taken lightly and was necessary in this instance to allow the emergency services to get the injured men safely to hospital and investigate the scene.

"Our enquiries are ongoing and I would still like to hear from anyone who witnessed the collision or anyone else with information which could assist us."

Anyone with information is asked to contact the Whitchurch Roads Policing unit, quoting Operation Idris, on 101 or 0845 045 45 45 from outside Hampshire.