New Minister For Portsmouth Making First Visit
28 January 2014, 12:05 | Updated: 30 March 2016, 13:50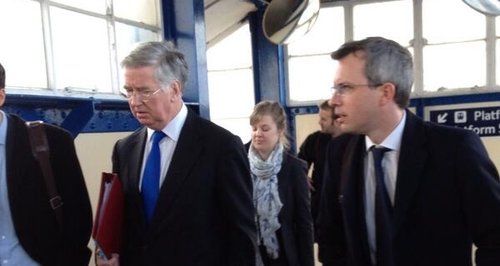 The new Minister for Portsmouth makes his first visit to the city today (Tuesday 28 January).
Prime Minister David Cameron appointed Michael Fallon earlier this month to help the city recover from the loss of Royal Navy shipbuilding. Almost 1,000 jobs are being lost due to the closure of BAE Systems' shipyard.
The former Conservative deputy chairman, who currently holds ministerial posts in the Departments for Business and Energy, was named minister with special responsibility to support jobs and growth in Portsmouth.
Mr Fallon will be meeting with trade unions, council leaders and the Solent strategy group he set up to discuss Portsmouth's future.

It is believed to be the first time a minister has been given responsibility for a particular provincial city since Michael Heseltine was made minister for Liverpool in the wake of the Toxteth riots of 1981.

The appointment of the Sevenoaks MP to the unpaid role was welcomed by politicians in Portsmouth, who said the city was in need of support following the decision last November to move Navy shipbuilding to Scotland, with the loss of almost 1,000 jobs due to the closure of BAE Systems' shipyard.

The leader of Portsmouth City Council, Gerald Vernon-Jackson, said:

"I am glad that it seems ministers are listening and we are going to have somebody like Michael to help us cope with the loss of shipbuilding. We have had just silence from the Ministry of Defence about this, so I am pleased that another department is willing to listen.

"He will have the ability to pull everything in Westminster and Whitehall together to make sure that we know what support there is available, not only from the UK Government but also from Europe.''

Mr Cameron's official spokesman told a Westminster media briefing:

"Michael Fallon already has BIS (Department for Business, Innovation and Skills) responsibilities. His role will be to support jobs and growth in the Portsmouth area, working with local businesses, local representatives and working across Government.''

Asked why Portsmouth had been chosen for particular attention, rather than other cities and regions which have suffered economically in the wake of the financial crisis, the PM's spokesman said:

"This takes into account that there are particular circumstances here with regard to recent announcements in terms of shipbuilding and the continued transition towards Portsmouth as the centre for Royal Navy maintenance and refurbishment.

"There are very particular circumstances here with regard to Portsmouth and the fact that there have been changes to Royal Navy shipbuilding, an industry that is very closely and directly linked to the Government.''

The spokesman was asked whether Mr Cameron would consider reviving Labour's practice of appointing ministers with responsibility for regions of England, which was dropped in 2010.

He replied: "I think there are particular circumstances in the Portsmouth area.''

Mr Fallon said:
"Portsmouth has a proud history and I'm confident that it has a strong maritime future and can emerge stronger from the decision taken by BAE.

"City leaders, unions, BAE Systems, other interested parties and the Government are all going to have to work together and pull in the same direction for new jobs and growth. I will be championing Portsmouth at the heart of Government and banging the drum for this great city at every opportunity.''

Caroline Dinenage, the Tory MP for neighbouring Gosport, welcomed the appointment. She said:
"Closures at Portsmouth dockyard have had a huge impact locally and particularly in Gosport where a large number of its workers live.

"I met the minister late last year to explain how this recent bad news is just the latest chapter in recent decades which have seen continued decline in the Navy's local footprint.

"I'm pleased that the Government have appointed a taskforce to plot a better future and I am confident that, with ministerial support, great things will be achieved in the Portsmouth region.

"I will be working hard over the coming months to ensure that Gosport is involved in future developments and that our local economy is able to benefit from Mr Fallon's assistance.''

Unite regional secretary, John Rowse said:
"Michael Fallon must fight tooth and nail to find ways to save valuable shipbuilding jobs and skills.

"The end of shipbuilding in Portsmouth will have tragic consequences for shipyard workers, their families and for future generations.

"As the ultimate owner of the Portsmouth dockyards, the Government can generate opportunities to save jobs and skills. We expect the newly appointed minister to rise to the challenge and give the city some hope.''