Lymington: Armed Raid Getaway Car Found
18 October 2013, 18:10 | Updated: 30 March 2016, 13:50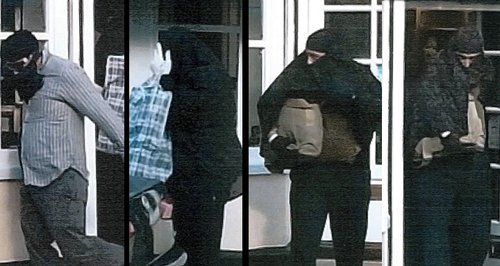 New Forest detectives have recovered the getaway car used by armed robbers who struck at a Lymington jewellery store at 11am on Thursday October 17th.
The blue Alfa Romeo 166 was found abandoned in Westbeams Road, Sway, at about 6pm on the same day. Witnesses told police it had been parked there the night before the robbery.

Police have released photographs taken by members of the public. The images show the offenders in their disguises.

Detectives have now appealed for anyone who saw what happened in or outside Barry Papworth Jewellers, but who has not spoken to police, to contact Lyndhurst CID.

They also want to hear from any hoteliers or B&B owners who may have had men staying overnight before the robbery, leaving on Thursday morning.

The robbers threatened the shop owner David Price, 57, with a handgun and ordered him to the floor while they grabbed cash and thousands of pounds worth of jewellery. Exiting quickly, they drove away in the Alfa Romeo, heading towards Pennington. Mr Price was not injured.

Detective Inspector Steve Deeprose said that this type of incident is, fortunately, very uncommon in the New Forest.

"Hampshire Constabulary will take every investigative opportunity to ensure that the people responsible for this cowardly and upsetting attack will be tracked down and made to face the consequences of their actions," Det Insp Deeprose said.

Anyone with information is asked to contact Operation Woodruff at Lyndhurst CID on 101.