Lorry Driver Jailed For Killing Southampton Biker
30 March 2017, 12:57 | Updated: 30 March 2017, 13:13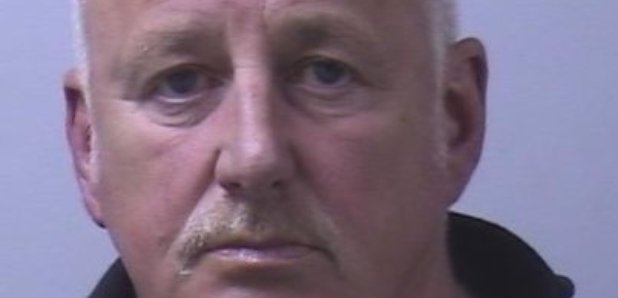 A five-year jail term's been given to a lorry driver - who caused the death of a Southampton biker.
Roy Woods had been talking on a hands-free phone when he hit Alan Couper outside a golf club in Leckford last year.
The 58-year-old from Forest Drive in Tidworth, Wiltshire (above) admitted causing death by dangerous driving.
Winchester Crown Court heard how Woods, an experienced lorry driver, was in collision with two motorbikes on Stockbridge Road, in Leckford, at 5.15pm on 13 April 2016.
Mr Couper, 62, was one of the motorcyclists and was pronounced dead at the scene.
The other motorcyclist, a 55-year-old man from Kings Somborne, was injured and taken to Salisbury Hospital for treatment. He was discharged later that evening.
The court was told that investigations by the Joint Roads Policing Unit for Hampshire and the Thames Valley found that Woods was having a telephone conversation with his friend at the time of the collision.
He was using a set of headphones and his handset was attached to the dashboard, using it hands-free, which is legal.
However, he became so distracted by the conversation he was having that as the motorbikes ahead of him stopped at the turning for Leckford Golf Course, indicating to turn right, Woods failed to react in time, colliding with both vehicles.
Further examination of phone records and tachograph data showed that Woods had spent one hour and 46 minutes of the five hours he had driven that day having phone conversations.
A reconstruction of the scene also showed officers that the motorbikes would have been visible to Woods 100m prior to impact, yet the evidence showed that he used his breaks later than that, which was too late to avoid the collision.
The court also heard the devastation caused to Mr Couper's family as their victim personal statements were read out.
His wife Helen said:
"I'm lost beyond belief. I absolutely hate the way I have changed in my outlook, I do not even know myself anymore. My lovely husband is gone from my sight forever and never coming back to me or his children. Where do I go from here? How will my life be without him?"
His daughter Claire added:
"On that day my life changed forever, I am no longer Claire Couper, I'm the little girl whose dad was killed. I will never get over this. I will love and miss my best friend, my hero, my dad until we meet again."
His other daughter Emma said:
"My dad meant the world to me and still does. He was a loving, caring, thoughtful dad and grandad, who loved nothing more than having the family all together. He thought family was the most important thing in the whole world."
Today Woods was sentenced to five years in prison and was disqualified from driving for seven and a half years.
After the sentencing Richard Thorpe, senior investigating officer, said:
"This is a tragic loss of life that could have so easily been avoided and our thoughts are with the family of Mr Couper today.
"As we have heard from them today, their lives have been destroyed.
"Woods was an experienced lorry driver who knew the road well but even with his capabilities, the distraction of a phone call resulted in this fatal collision.
"As the court heard, he was using his mobile phone hands-free, which is legal, but it was the telephone conversation that took his full attention from the road ahead and prevented him from taking the necessary actions to avoid this crash.
"His driving while speaking on the phone was a ticking time bomb and it was this distraction that caused him to drive dangerously.
"Had he waited to call his friend back when he was no longer behind the wheel, Mr Couper would be alive today and his family would not be faced with a future without him.
"This case acts as a tragic reminder as to why we advise motorists to leave their mobiles phones out of sight and out of reach. It is the only way you can guarantee that your driving will not be affected.
"It is not worth the risk.
"If we feel a motorist is being significantly distracted while driving, we will take action."