Kittens Found Dumped In Southampton During Rugby Game
6 October 2015, 09:59 | Updated: 30 March 2016, 13:50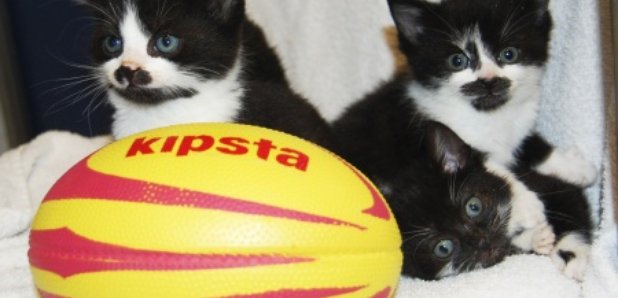 A charity's looking for new homes for seven tiny kittens - found dumped in a stable yard in Southampton during a Rugby World Cup game.
The seven kittens have been named after players on the English and Welsh teams.

Elena Cavazza, Animal Welfare Assistant at Southampton Blue Cross, said:
"It's so lucky that these little kittens were found and brought to us, as they were struggling without their mum at such a young age and were in quite a bad way when they arrived."

The homeless kittens are hoping to get a sporting chance at finding loving homes.

At just four weeks old, the kittens were found in a stable yard in Southampton, with their mum nowhere to be seen.

When they arrived at our Southampton rehoming centre, the kittens were all quite poorly and covered in dirt. But after a thorough vet check and a few days receiving lots of TLC, they are now doing really well.

The kittens - named Marler, Cuthbert, Francis, May, Morgan, Watson and Moriarty – will be cared for by Blue Cross fostering volunteers until they are old enough to find new homes of their own when they are about nine week old.

Elena added:
"They are making great progress now though and they are really lovely and playful (even if they're not that great with a rugby ball!). They will all make fantastic pets once they're old enough to go to new homes.!

If you could give one of these rugby-loving kittens the home they deserve, please contact Blue Cross' Southampton rehoming centre.