Kittens Dumped In Ringwood Car Park
30 September 2014, 11:04 | Updated: 30 March 2016, 13:50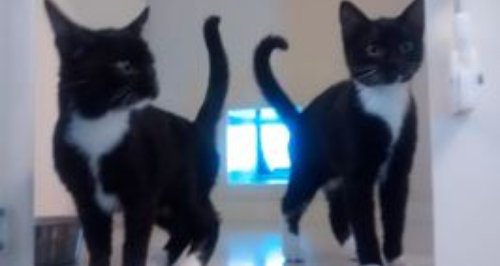 The RSPCA's investigating after two kittens were dumped next to some bins off Ringwood High Street.
The two male kittens, who have been named Woody and Buzz, were found on Sunday morning (28 September) shortly before 9am, when inspector Penny Baker was called out to the Fridays Court car park.

There was no form of identification on the kittens and neither had a microchip. Both are aged about six to seven months old and are black, with a white blaze across their chests.

They were found next to some industrial bins in the corner of the car park.

Inspector Baker said: "Both of these little chaps are in good body condition and seem fine with people.

"It could be that someone's circumstances changed and they could no longer look after them. However, they were quite well hidden in a secluded part of the car park and it is lucky that they were spotted by someone who called the RSPCA.

"There really isn't an excuse to just dump these poor animals. Anyone with information that could help my investigation should call 0300 123 8018 where they can leave me a message."

Both Woody and Buzz were taken to the RSPCA's Ashley Heath Animal Centre where they are now available for rehoming.

For more information on rehoming the kittens contact the centre on 0300 123 0749.