Support For East Cowes Children After Keziah Murder
6 June 2016, 08:05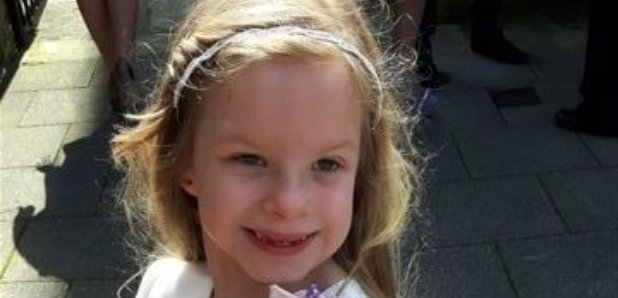 Special counselling will on offered at the Isle of Wight school of a murdered six-year-old, as her classmates and teachers return from half term.
Keziah Flux-Edmonds, a Queensgate Foundation Primary pupil, died after being found unconscious at a house in Cromwell Avenue in East Cowes on Wednesday 1 June, with the body of her dad Darren. Detectives aren't looking for anyone else over her death.
On Monday, there's a support session with PCSOs, a psychologist and a vicar - with the school saying it'll answer children's questions as best it can.
A statement on the school's website said:
'Our school hall will be available from 9am until 10am on Monday morning of the 6th June for parents of children who attend Queensgate to meet and sit to have a cup of tea or coffee.
'We would like you to drop your children off in their classrooms where staff will welcome them into school. Please save adult conversations for the hall. We will answer children's questions to the best of our ability and we will endeavour to create an atmosphere of normality.
'We will have support from: Police Inspector Samantha Dunlop; PCSOs Katy Berry and Ashley Moul; Julia Powell, an experienced Lead Educational Psychologist from Hampshire; our school nurse Lisa McGinness and East Cowes vicar Reverend Allie Kerr.'
Detectives started a murder investigation after the body of the little girl was found with the body of her dad Darren at a house in Cronwell Ave on Wednesday.
Officers in East Cowes are working closely with the school of Keziah Flux-Edmonds to ensure pupils, teachers and parents get the support they need following the young girl's death.
The head teacher of Queensgate Foundation Primary School Sam Sillito met with Superintendent Sarah Jackson and specialist colleagues from Isle of Wight Council's Children's Services and Isle of Wight NHS to discuss how best to ensure those affected get the right support.
Everyone at the meeting recognise the community has been left in shock following the deaths of Keziah and her dad, Darren Flux-Edmonds on Wednesday and officers are working together with the council, school and health services to help everyone through this difficult time.
On Monday our PCSOs have been invited into Queensgate Foundation Primary School to join Mrs Sillito and her staff to speak to the children and offer any reassurance they need.
Specialist staff from Hampshire and Isle of Wight Psychology Service will also be on hand to advise staff on how best to support children affected by this tragedy.
There will also be the chance for parents dropping off their children on Monday morning to go into the school hall and talk with school staff, Inspector Sam Dunlop, the school nurse, Lisa McGuinness, and the local vicar Reverend Allie Kerr about how to cope with bereavement.
On Tuesday neighbourhood officers will be at Parkside Pavilion between 3pm and 7pm, handing out literature on bereavement services and offering further reassurance to anybody who wishes go along.
Neighbourhood Inspector Sam Dunlop, who oversees the East Cowes area, said: "We know that the events in East Cowes this week have had a massive impact on the community and our thoughts are with Keziah's mum and the families involved.
"We are working closely with our partners to ensure those affected get the support, reassurance and advice they need.
"Our neighbourhood officers will be joining staff at the school on Monday to offer that support to both the children, parents and teachers and hopefully by everyone coming together we can support each other through this very difficult time."
Specialist officers continue to support Keziah's mum and the families involved.
Links to bereavement services
Cruse Bereavement Care - call 01983 523 030 or their freephone helpline 0808 808 1677 or visit www.cruse.org.uk/Isle-of-Wight-area.
Hope Again is Cruse Bereavement Care's service for young people - their freephone helpline is or visit hopeagain.org.uk.
http://www.winstonswish.org.uk/
A fundraising webpage set up in memory of Keziah has reached £1,200. Friends hope the money from the online fund may go towards a garden of remembrance for her.