Inflatables Warning After 15 South Coast Rescues
3 July 2018, 10:12 | Updated: 3 July 2018, 10:18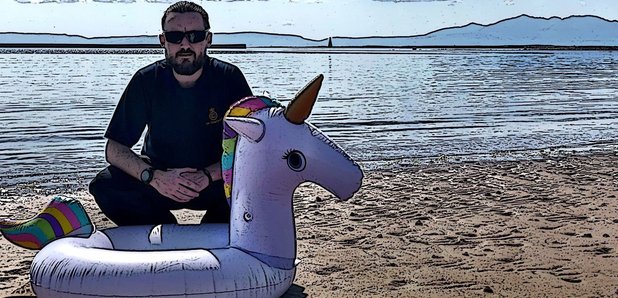 The coastguard's warning us not to use inflatables in the sea, after having to rescue 15 people off the South Coast just last night.
One, on an inflatable unicorn, got blown into a shipping lane near Portsmouth. Another group on a blow-up flamingo ended up in difficulty.
We're being told they should only be used in pools really.
Reports of someone in trouble using a unicorn inflatable at Hayling Island led to Hayling Coastguard Rescue Team, Portsmouth and Hayling RNLI lifeboats being called along with the HM Coastguard search and rescue helicopter from Lee-on-Solent being sent. Another man with an inflatable dinghy in the same area was also reported to be in difficulties, as were other people using a flamingo Inflatable.
Some of these incidents resulted from abandoned inflatables, which were then reported by concerned members of the public to the Coastguard, who then had to conduct search operations to ensure that no one was at risk.
HM Coastguard duty controller Piers Stanbury said:
"We've had people rescued from a number of beaches along Hampshire and Sussex coastline. Each one of them had been using an inflatable. Thankfully, everyone so far has been rescued and is safe. We've had to waste RNLI and Coastguard volunteers' time to ensure that abandoned inflatables did not have anyone at risk associated with them.
"We can't stress enough that these inflatables are not suitable for use in the sea. Tide conditions, the wind, any changes in the weather can just take them out beyond safe depths. Please, don't use them, don't take them to the seaside. Inflatables really should only be used in swimming pools, not at the coast where they can quickly go from being fun to being potentially deadly."
(Pic: Hill Head Coastguard)