Capital Joins Hampshire Police Op To Catch Drivers Using Phones
18 November 2016, 08:14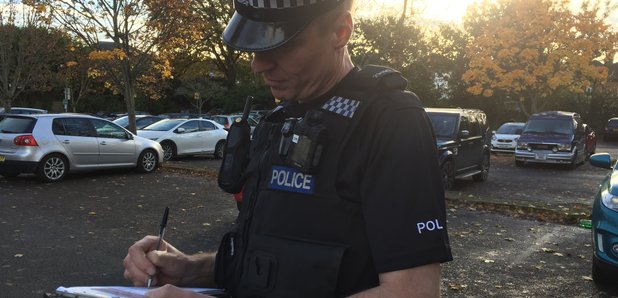 Capital's been out on patrol with police, looking for drivers using their phones behind the wheel.
Police across Hampshire want to stop more people from using their phones behind the wheel.
Our reporter Louisa Maher went out with a roads policing unit from Totton in Southampton to catch drivers in the act.
One driver is seen here trying to convince the officer not to give him a ticket as he was likely to lose his licence.
Hampshire Police Statement:
It is a split second decision that can cost lives.
And the recent collision on the A34 highlighted more than ever just how devastating the consequences of deciding to use your mobile phone behind the wheel can be.
Four people tragically lost their lives as a result of lorry driver Tomasz Kroker ignoring the warnings and using his mobile phone while driving in August.
Yet despite the obvious dangers and unavoidable loss of life, motorists continue to break the law.
This week officers across Hampshire and Thames Valley have joined a nationwide crackdown on those using their phones behind the wheel.
Roads Policing Officers from the Joint Operations Unit will be carrying out dedicated operations stopping drivers caught using their phones, issuing penalties, as well as educating motorists about the dangers of distraction.
A total of 15 per cent of all fatal collision in Hampshire have involved the driver being distracted or using a mobile phone, yet despite these potentially fatal consequences, motorists are still taking that risk.
The last campaign focusing on mobile phones took place in May and saw 190 people caught – an increase of 36 per cent compared to the same time last year.
Hampshire Constabulary's Road Safety Sergeant Rob Heard said: "You are four times more likely to be involved in a collision whilst using a mobile phone or being distracted in a vehicle.
"Unfortunately far too many people are still deciding to take that risk and the consequences of these actions can cause devastation, as we have recently seen with the case on the A34 and a lorry driver being distracted by his phone.
"The video in this case clearly showed the driver looking at his phone then looking ahead numerous times.
"This clearly showed how he was distracted, even though he was looking ahead several times he still did not see what was happening ahead, namely the slowing stationary traffic.
"By the time he did realise it was too late and four innocent people lost their lives.
"This crash was completely avoidable and people need to remember that a split-second lapse in concentration could result in a crash.
"My advice is to turn your phone off whilst driving, put it out of reach, and out of view.
"This way you won't be tempted to look at it and become distracted.
"It's not worth the risk."
Research has shown that using a mobile phone makes our reactions 50 per cent slower.
Using a hands-free phone while driving does not significantly reduce the risks because the problems are caused mainly by the mental distraction and divided attention of taking part in a phone conversation at the same time as driving.
The Facts:
• You're four times more likely to crash if you use a mobile phone while driving
• Reaction times for drivers using a phone are around 50% slower than normal driving
• Even careful drivers can be distracted by a call or text – and a split-second lapse in concentration could result in a crash
Law:
• It's illegal to ride a motorcycle or drive using hand-held phones or similar devices.
• The rules are the same if you're stopped at traffic lights or queuing in traffic.
• It's also illegal to use a hand-held phone or similar device when supervising a learner driver or rider.
When you can use a phone in your vehicle
If you're the driver, you can only use your phone in a vehicle if you:
• need to call 999 or 112 in an emergency and it's unsafe or impractical to stop
are safely parked
Using hands-free devices when driving:
You can use hands-free phones, sat navs and 2-way radios when you're driving or riding. But if the police think you're distracted and not in control of your vehicle you could still get stopped and penalised.

Penalties for using your phone while driving:
You can get an automatic fixed penalty notice if you're caught using a hand-held phone while driving or riding. You'll get 3 penalty points on your licence and a fine of £100.
Your case could also go to court and you could be disqualified from driving or riding and get a maximum fine of £1,000. Drivers of buses or goods vehicles could get a maximum fine of £2,500.