Hampshire Police Start 'Be Seen' Bike Safety Campaign
26 October 2016, 10:28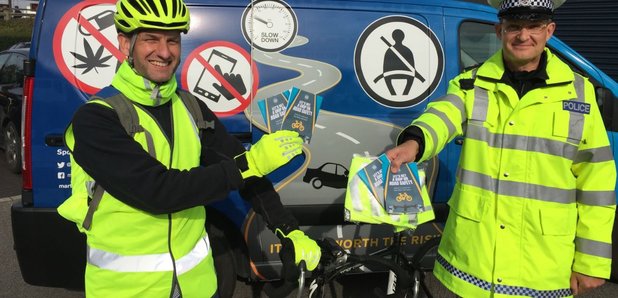 Hampshire Police are on a big mission to get more cyclists to use lights and wear reflective clothing - as the evenings start getting darker.
Nearly 1,000 cyclists have been killed or badly injured across Hampshire and the Isle of Wight in the past five years.
Officers, from the Joint Operations Unit which covers Hampshire and the Thames Valley, will be carrying out operations across the county.
Of those incidents which resulted in a cyclist being killed or seriously injured, 21% happened during the morning and evening rush hours and 75% occurred on 30mph roads.
Officers will also offering advice as well as freebies to help boost safety. These will include fluorescent rucksack covers, fluorescent neck tubes and "get you home lights" for those cyclists without lights.
Cyclists and motorists will also be handed a new 'Get a Grip' cycle safety booklet, packed full of all the latest advice encouraging safer roads for everyone.
Primary school children are being encouraged to wear bright clothing for their Your Time to Shine Day.
Road Safety Sergeant Rob Heard said:
"During this week we will be speaking to cyclists and other road users about safe riding and driving tips and about sharing the road together for the safety of all.
"Cycling is a great way to keep fit and healthy, however cyclists are one of our vulnerable road users and when they are involved in a collision the injuries can be serious.
"As the light reduces and visibility diminishes it is always good idea for all road users to be bright and as visible as they can.
"Despite the dangers, some cyclists take the risk of riding without lights, which as well as being illegal, increases their risk of being involved in a collision.
"We hope that this week of action will remind both cyclists and motorists that a little extra consideration of each other will make our roads safer for everyone."