Hampshire Police Catch Drivers Eating Cereal & Shaving
19 January 2017, 06:38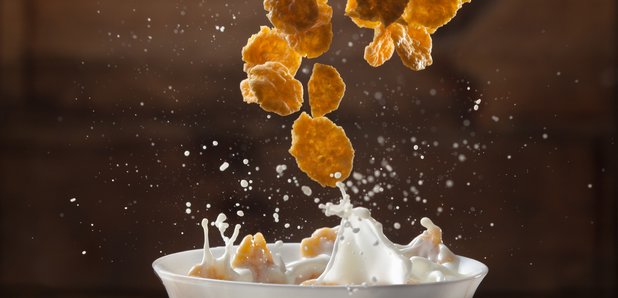 More than 150 distracted drivers have been stopped by Hampshire and Thames Valley police in a week - including one eating cereal and another having a shave.
Officers from the Roads Policing Unit, part of the Joint Operations Unit, used an unmarked lorry last week to see what people were up to in their cars. They stopped a total of 213 drivers for various offences using an unmarked HGV tractor unit on loan from Highways England, as well as unmarked police cars and motorbikes.
The five-day operation was carried out on the A34, M27, M3, M4 and M40 last week.
Of those stopped, 151 drivers were stopped for being distracted while behind the wheel.
Of those 151, 137 were caught using their mobile phones and others were stopped for reading books and eating.
One van driver was stopped on the M27 for eating his breakfast cereal while driving and a HGV driver was caught shaving on the M4.
Thanks to the use of the HGV tractor unit, many of those stopped for using their mobile phones were found holding their devices below the steering wheel, with the drivers looking at the screen instead of the road ahead.
Other offences included 25 stopped for excess speed and eight for careless driving as well as others for no insurance, no tax and insecure loads.
The operation was supported by a DVSA vehicle examiner who joined officers and inspected vehicles stopped during the course of the operation. This resulted in prohibitions on ten vehicles for tyre, brake and steering defects.
Sergeant Paul Diamond, who led the operation, said:
"It is disappointing to see so many people still using mobile phones while they are driving.
"You can clearly see from the footage from our operation at the end of last year that if a driver's attention is on their mobile phone, it is not on the road and this can be potentially fatal.
"Sadly we have seen many examples over the last 12 months of lives lost unnecessarily because a driver has not had their full attention on the road.
"That is why identifying distracted drivers is a priority for the Roads Policing Unit across Hampshire and Thames Valley and we will continue to target drivers who choose to disregard the safety of others."
He added: "We run these partnership operations regularly and we are very grateful to Highways England and DVSA for their support."
John Henderson, Highways England, added:
"Safety is our top priority and I am pleased that our HGV cab has been so useful in helping the police to identify unsafe behaviour on the motorways and major A roads.
"It provides an ideal viewing platform for police officers to identify dangerous behaviour that can be difficult to spot from standard police patrol vehicles.
"Highways England is committed to working collaboratively with Thames Valley Police and Hampshire Constabulary to improve road safety in the region by influencing driver behaviour by this and other initiatives."