Hampshire Firefighters Meet Baby They Saved
3 December 2013, 06:22 | Updated: 30 March 2016, 13:50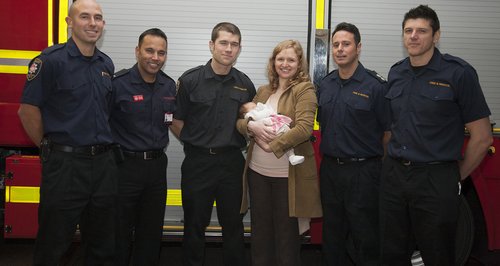 Hampshire firefighters who rescued a heavily pregnant woman from a car crash have been meeting the baby whose life they saved.
Emma Sayer was on her way to work to say farewell to her colleagues before she went on maternity leave last month when she was involved in a crash just off the M3 at Junction 13 at Eastleigh.

Firefighters arrived on scene within a matter of minutes and cut the 27-year-old out of her car. Emma was 38 weeks pregnant at the time.

Emma was then taken to hospital, but due to complications following the crash, she had to be induced.

Baby Grace was then introduced into the world on Tuesday 12 November, happy and healthy.

Emma said:
"Unfortunately I never made it into work the day of the incident. Being heavily pregnant I was terrified for the safety of my baby and I remember begging all the people who attended the scene to get me to hospital as soon as possible.

"The fire crews who attended were fantastic - they chatted to me the whole time which really helped to keep me calm - especially when they started taking the roof off my car! I knew exactly what they were doing at all times and why. And when they lifted me out, completely horizontal I might add, it was done so smoothly and carefully I didn't feel a thing.

"I can't thank the team enough for all they did for me that morning. I am so grateful for their kindness and support during a very scary time. Because of them, I was able to get to hospital quickly and thankfully our baby was not hurt."

Yesterday (Monday 2 December), Emma and Grace have been back to Eastleigh Fire Station to visit and thank the Eastleigh fire crew who helped them during the incident.

Watch Manager Andy Piller, who attended the incident, said:
"It is extremely rewarding for our crews to meet baby Grace and see Emma again today and to know that we made a big difference in both their lives.

"We are extremely proud of our crews, who are faced with difficult situations like this one every day. This was most definitely an effective and successful rescue."