Hampshire Firefighters Claim World's Largest Naan Record
7 July 2014, 18:22 | Updated: 30 March 2016, 13:50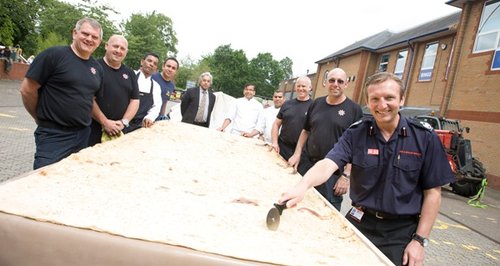 A team of Hampshire firefighters, led by an officer called Dave Curry, are claiming a record for making the world's largest naan bread.
The record-breaking naan, measuring 3.79 metres by 1.4 metres (12.43ft by 4.5ft) and weighing 26kg (57lbs), was created by the group from Hampshire Fire and Rescue Service at the Eastleigh Mela Indian festival yesterday.

Deputy chief officer Dave Curry said:

"This was a genuine team effort, with great commitment shown by all involved.

"As well as the fun side of achieving the record and the added value of raising money for worthwhile charities we also showed the great relationships we have in the area to make things happen in the best interests of our communities.''

The naan was sold to the public with chicken curry to raise money for The Fire Fighters Charity, the Water Wells Project and the Hampshire Hurricanes.

The previous record for the largest naan bread measured 2.89 metres by 1 metre (9.4ft by 3.2ft) and weighed 9.5 kg (20lb 15oz).