Girls Quizzed After Paramedics Attacked In Eastleigh
29 June 2018, 07:06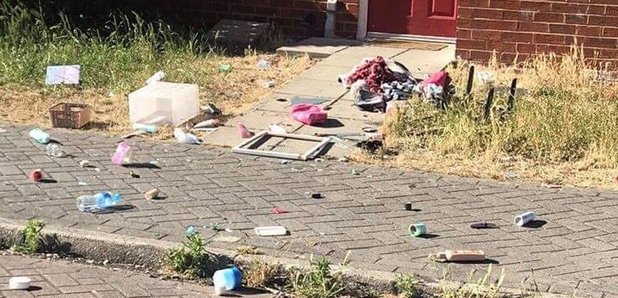 Two teenage girls - arrested after paramedics had bricks, chairs and glasses thrown at them in Eastleigh - have been released under investigation.
The crew gone to what turned out to be a hoax 999 call in Stranding Street on Wednesday evening, about a 13-year-old girl in cardiac arrest. Crews say vehicles were damaged and staff left 'extremely shaken'.
South Central Ambulance Service NHS Foundation Trust (SCAS) posted on Facebook saying 'it beggars belief what happened to our staff in Eastleigh.'
Paul Jefferies, assistant director of operations at SCAS, said:
"Following an emergency 999 call received from a house in Eastleigh, we immediately sent a rapid response car and an ambulance to the address as we were informed someone inside the house was in cardiac arrest.
"Staff in the two vehicles that arrived at the property were met with a barrage of bricks, glass, plastic tables and chairs and other items which were being thrown at them from the upstairs windows of the property.
"The staff immediately requested assistance from Hampshire police who were required to help gain access to the property where it was confirmed there was no patient inside.
"Actions such as these can put other people's lives in danger as the original staff who were sent to this location, along with additional SCAS staff to provide them with support and check their physical and mental wellbeing, would have been unable to respond to patients in the local area who had dialled 999 with genuine emergencies around that time.
"Fortunately the staff involved, though extremely shaken, were uninjured and later able to continue their shifts.
"We are working closely with Hampshire Constabulary and will continue to assist their investigation."
Hampshire Police said:
'We were called to an incident in Stranding Street, Eastleigh at 5.40pm on Wednesday.
'A 13-year-old girl and a 14-year-old girl, both from Eastleigh, were arrested on suspicion of assault, cause of wasteful employment of police and use of threatening/abusive/insulting words/behaviour to cause harassment/alarm/distress.
'They have now been released from custody but remain under investigation.'
SCAS have posted an update on Facebook saying:
'Thank you to everyone who has passed on their best wishes for the staff involved in yesterday's incident. They were extremely shaken but uninjured and will no doubt have appreciated your thoughts.
'Given the volume of comments in relation to this incident we have decided to remove the [original] post and will continue to assist Hampshire Police with their investigation.'