Giant Heads To Tell Portsmouth's WW1 Story
20 June 2014, 06:18 | Updated: 30 March 2016, 13:50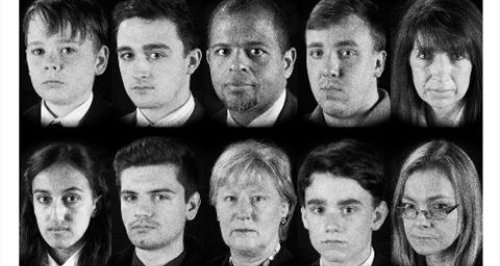 Giant 3D heads will be projected onto a screen in front of HMS Victory in Portsmouth tonight, as part of a major arts project.
FACES will explore what was really happening in Portsmouth during the lead-up to the start of World War One.
Portsmouth Festivities in partnership with National Museum of the Royal Navy, with support from Portsmouth Historic Dockyard, The Portsmouth Grammar School and Arts Council England, are working with award winning film-makers and artists to create a new film on a grand scale.

A purpose built giant screen and precision technology will give the film an almost 3D or holographic quality so it will appear as though giant talking heads are hovering in the darkness in the heart of historic Portsmouth. It promises to be an unmissable and thrilling spectacle.

Video-performance artists Wilson- Eflerová, have filmed more than 60 men, women and children from Portsmouth communities for the ambitious new film. Using diaries, letters and testimony from 100 years ago, collected by a team of researchers, they are creating an extraordinary visual tapestry, like nothing seen in Portsmouth before.

"I have become a story hunter, shooting arrows in all directions", explains performance artist Helena. "The FACES project research has made me realise how diverse the Portsmouth community is. FACES has connected local people in meaningful way through contemporary art."

Local resident and naval serviceman, Graham Brown, took part in filming for the project: "It was a surprisingly intense and unique experience," he says "No doubt the finished film is going to be awesome as a historical piece and educational performance."

Inevitably the project has also revealed a darker side to the city's past. Kye Wilson, artist and producer who studied at the University of Portsmouth, explains: "I now know the impact this war had on Portsmouth and how events one hundred years ago have shaped modern civilization. I was particularly disturbed by how some sections of society were treated, as city resources were threatened and suspicion of people from outside of the city took hold."

FACES is the flagship event of this summer's Portsmouth Festivities, the city's annual arts extravaganza. It will premiere at a monumental outdoor screening in Portsmouth Historic Dockyard.

Lincoln Clarke, Chief Executive of Portsmouth Historic Dockyard said: "The FACES film project is unique and something never seen before in the UK. HMS Victory is the perfect backdrop to set the scene depicting the untold stories of the people of this Naval city. We've been proud to support Portsmouth Festivities for many years, but this year promises to be the most spectacular yet."

There will also be smaller screenings of FACES at venues across the city and a series of free public creative workshops and talks, exploring the themes of the piece.

Audiences to the world premiere performance of FACES from 8.30pm on Friday 20th June will also have free access to the HMS - Hear My Story Galleries at the National Museum of the Royal Navy at Portsmouth Historic Dockyard; a unique exhibition revealing undiscovered stories of the Royal Navy from the last 100 years.