Barbie-Themed Funeral For Gosport Hit And Run Teenager
29 November 2013, 06:18 | Updated: 30 March 2016, 13:50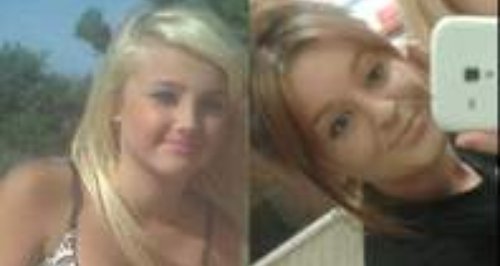 A 14-year-old girl who died after she was in collision with a car has been buried in her "ultimate'' pink prom dress following her Barbie-themed party-funeral.
The family of Jasmine Allsop, one of two teenage girls who died in the incident which happened earlier this month, led the mourners at the service held at St John the Evangelist church in Gosport, Hampshire, including many young friends dressed in pink, her favourite colour.

The church was decked out like a "Barbie's palace'' with "pink and bling'' decorations for the service held as a celebration of her life.

The pink coffin arrived arrived at the church on a white carriage drawn by two white horses with pink plumes in their manes.

It was followed by a stretch pink limousine carrying her mother, Rosemary Allsop, and other family members.

Jasmine's "handbag'' dog called Tinker, wearing a pink collar, attended the service.

Police were called to Ann's Hill Road in Gosport at 4.15am on November 3 following reports that a green Honda Civic had hit two girls.

Jasmine died at the scene, while Olivia Lewry, 16, died later after being taken to hospital.

Music during the service included Barbie Girl by Aqua which was played as her coffin was carried from the church.

The song was chosen to recognise Jasmine's love for the popular doll.

The service was organised as a "party'' including music and dancing with glow sticks.

Her father, Kevin MacLaughlan, 58, in an eulogy read by the Rev Carrie Thompson, who led the funeral service, said: "Jasmine loved everything pink, girly and blingy - basically, anything that made her look and feel like her great idol, Barbie.''

He said that Jasmine had created the "ultimate prom dress - a vision in pink, with the word 'Barbie' emblazoned across the front in diamante'' which he said she had been dressed in for the burial.

He said: "There's probably nothing that sums up Jasmine better than that pink, sparkly Barbie dress - the only outfit that would do for someone whom her family describes as 'a beautiful Barbie doll with a bubbly personality and a big smile'.''

He continued: "Jasmine loved life, and every day of her 14 years, she seized hold of life and lived it to the full.

"So perhaps the best tribute you can pay to Jasmine is to keep on living your lives to the full too.

"Don't let yourselves get eaten up by bitterness and blame, but do what Jasmine would have wanted: smile and live life.''

He added: "And, as Rose says, she's probably up there sporting pink sparkly wings and a halo, dancing around saying 'Look at me, look at me'.''

Ms Thomson said: "We come here today in sorrow, to mourn the passing of someone who was taken from us so suddenly and so soon but we also come here today in celebration of her life and to give thanks for all the love and laughter that she brought to us and everyone who knew her.''

Speaking ahead of the funeral, Ms Thomson said: "Jasmine was a very outgoing girl and her family have gone to town to pay tribute to her.

"The church has been decked out in pink there will be music at the funeral, joyful dancing.

"The church is like Barbie's palace, Jasmine loved everything to do with Barbie, we are playing Barbie Girl at the funeral. It all reflects her personality.

"Her family are concentrating on giving thanks and celebrating her for the wonderful young woman she was.''

Describing how the local community was dealing with its grief, she continued: "Gosport is quite a tight-knit community, everyone knows each other and as news came through when we first heard of the incident, people were understandably in shock, grief-stricken and some anger came out as well.

"What has happened over the course of a couple of weeks is that Gosport has done what Gosport does best and it has banded together, lots of people have been very supportive of the family, people have sent messages of good will.

"It's a community that is grieving but it is also a community coming together.''

The song She's Not Afraid by One Direction was played after the service with Shakira's Hips Don't Lie played before and Transit Van by Seamus Moore as the coffin arrived.

After the service, the church was open for people to light candles, sign books of condolence and spend time in quiet reflection.

Jasmine was buried in a private ceremony, attended by close family and friends.

Jasmine was born in Doncaster before moving to Gosport at the age of eight where she attended Siskin Junior School and Brune Park secondary.

Jasmine's mother Rosemary has described how she kissed her daughter goodbye after she was awoken by the emergency services attending the accident, which happened outside her home.

Ms Allsop, 37, said she had enjoyed a night in with the two girls before the accident.

She said: "I told her she was my angel and I'd loved her since the day she was born. I can remember her big blue eyes staring.''

The housewife, who is the mother of a four-year-old, said the death left her numb.

She said: "I'm empty inside and lost. I keep expecting her to come through the door.''

She added: "Jasmine was a gorgeous, lovely, bubbly character. They (Jasmine and Olivia) were best friends.''

Samuel Etherington, 20, an unemployed sports coach from Stoners Close, Gosport, Hampshire, has been charged with manslaughter of the two girls and he is due to appear at Winchester Crown Court on January 3.