Four Portsmouth Engineers Celebrate Lotto Win
19 March 2014, 14:09 | Updated: 30 March 2016, 13:50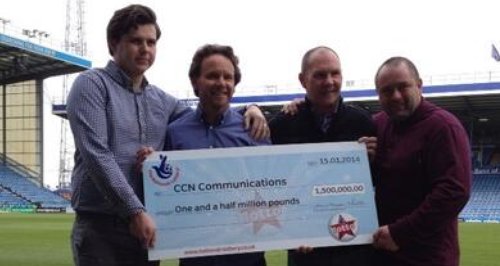 Four civil engineers from Portsmouth have had their financial futures secured after they scooped a £1.5 million lottery win - thanks partly to the lucky number 22.
Lewis Fox, 23, chose 22 as one of the syndicate's numbers because it is the date of his mother's birthday and his late grandmother's lucky figure.

His thinking helped him and his three colleagues strike lucky, including his father Tom Fox, 45, Sid Veness, 51, and Mark Bush, 41, who all work for Portsmouth-based CCN Communications.

Lewis, a Portsmouth FC season ticket holder, said: "We try to pick numbers that mean a lot to us and the number 22 is extremely important to the Fox family.

"It is the date of my mum's birthday and was also my nan's lucky number who is sadly no longer with us.

"It means so much to have won this money.

"I only bought my first house two months ago and I can't believe my second-ever mortgage payment will be my last.''

The four only started the syndicate at the start of this year, and have become the second syndicate from Portsmouth to win in just a few weeks.

Tom Fox said: "I was sat in front of the television with just the dog, as the rest of the family were out.

"I had to watch the Lotto draw back 10 times before I realised that we'd definitely won and I was then straight on the phone trying to get hold of everyone.

"I froze the screen with the winning numbers so they could check I was right as my wife didn't believe me when I told her over the phone.''

When the other syndicate members arrived at Tom's house, it emerged the winning numbers were chosen by Lewis, as they pick a line each and then have one Lucky Dip.

The syndicate - whose winning numbers were 14, 19, 22, 25, 38, 48 and the bonus ball of 8 - plan to holiday in Tenerife after their ticket was one of four to share Saturday's £6.2 million Lotto jackpot.

Mr Bush said: "We've been on holiday together before but this will most definitely be a holiday that we won't ever forget.''

Last month, three colleagues from a Portsmouth sailing company, Terry Hunt, Andy Wallace and Alison Gruar, won £1 million in the Euromillions Millionaire Raffle draw.