Winchester: Man Rescued From Balcony During Fire
14 January 2014, 12:21 | Updated: 30 March 2016, 13:50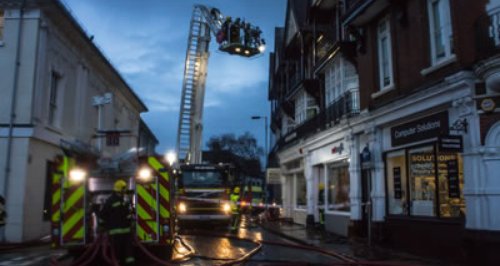 A man has been pulled to safety from a second-floor balcony by firefighters after a fire broke out in a flat in the centre of Winchester.
Crews were called to the terraced building on Jewry Street just after 2.45pm on Monday 13 January after smoke was seen coming from the window.

Firefighters arriving at the scene quickly pitched a ladder to reach the second-floor balcony and helped the man to safety.

The man was treated at the scene by South Central Ambulance Service but did not require hospital treatment. He had been asleep in his flat when the fire broke out but was awoken by his smoke alarm.

The cause of the fire is currently under investigation.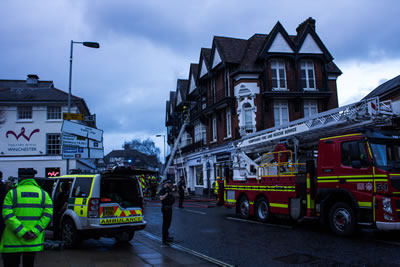 Group Manager Kevin Evenett said:

"We arrived to find a lot of smoke coming from the window and a man clinging to the balcony.

"Firefighters quickly pitched the ladder to reach the man and help him to safety.

"The speed of the response by the crews and their actions in reaching him undoubtedly helped to save this man's life. The early warning provided by his smoke alarm also helped him to escape onto his balcony before the fire took hold."

More than 40 firefighters from Winchester, Eastleigh, Basingstoke, Havant and St Mary's then used breathing apparatus and jets to enter the building and prevent the fire spreading to neighbouring properties.

"A severe fire had developed and entered the roof space, and the crews worked extremely hard to prevent any spread, " added Group Manager Evenett.