Duchess Of Cambridge Names New Cruise Ship
13 June 2013, 13:44 | Updated: 30 March 2016, 13:50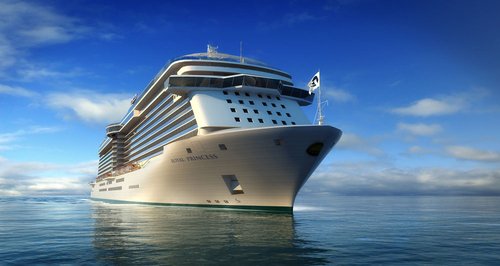 The Duchess of Cambridge carried out her last solo engagement today before her baby is born - launching a new liner.
Kate, who is around eight months pregnant, looked relaxed as she stepped from her chauffeur-driven vehicle to the quayside in Southampton.

She is due to give birth by mid-July and made the journey from London by helicopter for the naming ceremony of Princess Cruises' 3,600-passenger vessel Royal Princess.

A musical extravaganza was staged ahead of the christening of the new vessel by the Duchess and blue carpet, not the customary red, was laid out for her arrival.

She took her place on a stage in blustery conditions that threatened rain and seated opposite in a large grandstand were guests associated with charities that have the Duke and Duchess of Cambridge or Prince Harry as their patrons.

Spectators were from East Anglia's Children's Hospice, Kate's charity, SkillForce which has William as its figurehead, and Harry's organisation WellChild.

Kate, who wore a black and white print Hobbs coat, is the new liner's godmother, a symbolic position similar to a patron or sponsor that dates back to the mid-19th century when leading women were selected for the honour.

Princess Cruises has a history of illustrious godmothers for past ships including Diana, Princess of Wales, who named the first Princess Royal in 1984, actress Audrey Hepburn, Sophia Loren, and Baroness Thatcher.

The Band of her Majesty's Royal Marines Portsmouth accompanied by the Pipers of the 1st Battalion Irish Guards gave the start of the ceremonies a military flavour.

They lined Kate's route to her seat after playing rousing tunes such as Pomp And Circumstance, sea shanties and a march called HMS Queen Elizabeth.
Alan Buckelew, president and chief executive officer of Princess Cruises, gave a speech praising the Duchess for taking part in the naming ceremony.

He said:

"This is, indeed, a very proud day for all of us at Princess Cruises, because it marks the culmination of several years of designing, building and delivering this spectacular ship.

"And we're delighted to name our new ship in Southampton, because our company's ties to Britain are strong.

"For almost 30 years Princess Cruises was part of one of the greatest and most storied shipping lines, the Peninsular & Oriental Steam Navigation Company, which was founded in 1837 - and as long ago as 1844 invented cruising to far-off lands. To this day, our pride in our company's British heritage endures.

"From the time that we first conceived Royal Princess, we knew she would be an exciting evolution of the Princess ships our passengers have come to know and appreciate.

"Our intent was to take the signature features of our current fleet - such as movies under the stars, the exclusive Sanctuary and the dramatic central piazza - and to these add an array of new concepts in dining, entertainment and amenities.

"Some of these concepts are the glass-bottomed seawalk extending over eight metres from the side of the vessel, a dazzling top-deck fountain, a television studio and, for those with a sweet tooth, the largest pastry shop at sea.

"We think the result is a ship that is at once familiar and welcoming, while at the same time innovative and exciting - a combination we're sure will delight our passengers, and deliver the unforgettable vacations for which we're known.

"But let us remember that as beautiful as this ship is, it will be the ship's crew members who will help passengers create lifelong memories, and we have 1,346 employees on board who are ready and eager to do this.

"To welcome Royal Princess into our fleet, we're incredibly honoured that HRH the Duchess of Cambridge will officially name the ship today, marking the start of its many journeys through the world's oceans and to fascinating shores.

"The naming of a ship is a tradition thousands of years old. The ritual marks the birth of a vessel, and asks for a blessing of good fortune and safety for the ship, its crew, and passengers.

"Perhaps the most important element of the naming tradition is the godmother selected to christen a ship. A godmother is the figurative patron of the ship through its entire life, and symbolises the spirit of the vessel.

"We can think of no more fitting godmother for our magnificent new ship. Her Royal Highness is an inspiring ambassador for Britain, and she is admired around the world for her style and grace, and for her compassion for others.''