Winchester: Dozens Of Offers To Rehome Abandoned Dogs
6 February 2015, 07:39 | Updated: 30 March 2016, 13:50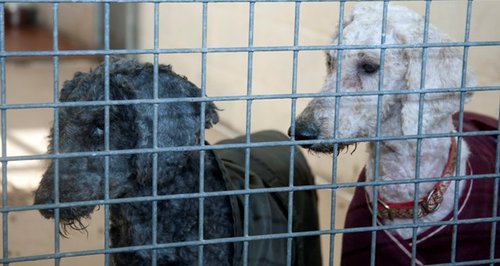 The RSPCA's told Capital there are dozens of people wanting to rehome nine dogs, found abandoned around Winchester last month.
The poodle-crosses – named Sian, Dave, Faye, Justin, Kate, William, Maria, Martha and Mavis – have been taken to RSPCA rescue centres at Ashley Heath, the Ark at Stubbington and Mount Noddy near Chichester.
The dogs remain in the overall care of Winchester City Council. At the rescue centres the RSPCA will continue to build up the dogs' strength, socialise, train and exercise them until they are well enough to go to new homes.
The charity says the dogs still have physical and psychological problems and it'll still be months before they'll be well enough for adoption.

The nine dogs were abandoned on 21 January at four locations near Winchester: one at Alresford; three on the Morestead Road; three at Lower Baybridge Lane, Owslebury; and two at Longwood Dean Lane, Owslebury.

Experienced animal welfare officers say it is the worst case they have seen. The dogs were almost unrecognisable when they were found: they had long, matted coats, they were caked in mud and filth, they were undernourished, with stones in their feet and overgrown claws. They were unable to see or walk properly because of the sheer weight of fur. It took vets three hours to shave up to 12 kilos of fur from each of the dogs – half their bodyweight.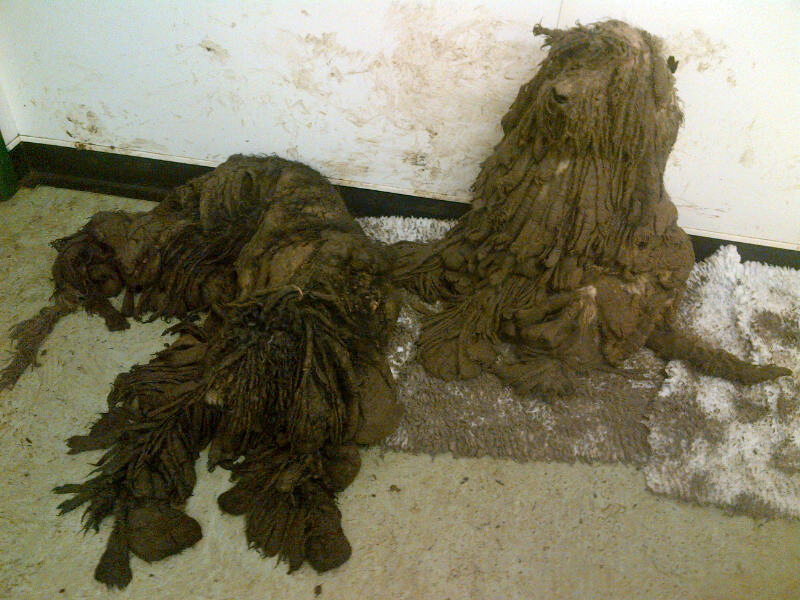 RSPCA officer Jan Edwards said:
"The majority of them still have eye and ear infections which we are still treating.
"They've got lots of psychological problems as well as physical problems. We are seeing a general improvement but still have a long way to go.
"It is going to take some time. When we were first presented with them they wouldn't walk, you had to carry them. They were very nervous, scared of outside spaces and would panic on a lead."


Microchipping will become a legal requirement from April 2016 which will help local authorities in reuniting stray and lost dogs with their owners.

The advice from Winchester City Council's animal welfare team is: don't buy puppies over the internet; make sure you see them 'at home' with their mother.
The investigation into who mistreated and abandoned the nine dogs in the Winchester district continues. Evidence is being gathered and the City Council is still urging the public to come forward - email eh@winchester.gov.uk or call 01962 840222.
People interested in putting forward their names to provide a home for one of the dogs should contact the RSPCA on 0300 1234 999.