Crew Of HMS Kent Return To Portsmouth
9 October 2013, 13:20 | Updated: 30 March 2016, 13:50
Royal Navy warship HMS Kent returned to Portsmouth today welcomed by crowds of family and friends excited to see their loved ones following a successful deployment to the Middle East.
The Type 23 frigate sailed more than 39,000 miles on security and counter-piracy patrols in the Indian Ocean, Red Sea and Gulf.

HMS Kent left Portsmouth in March and became the first major Royal Navy warship to be invited to visit Tripoli in Libya in over 40 years.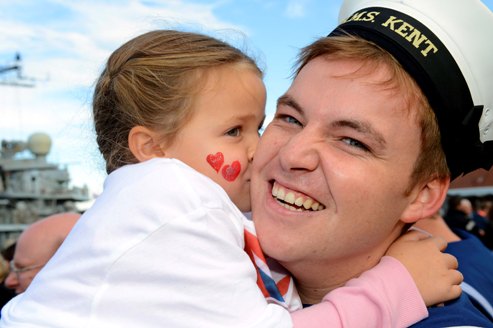 After travelling through the Mediterranean Kent transited the Suez Canal before taking over from sister ship HMS Northumberland and spent the following five months as part of the Combined Maritime Task Force, a 28-nation partnership promoting maritime security in the region.

The ship worked with various regional and coalition partners including Oman, Yemen and Djibouti including escort duties for the United States Amphibious Group and US and UK mine countermeasures vessels through the Strait of Hormuz.

In May Kent took part in Exercise Khunjar Hadd, a 13-ship multi-national exercise hosted by Oman, fostering co-operation with the navies of the region, practising tactics against air and surface threats as well as demonstrating boarding capabilities.

Kent also interacted with the navies of India, Canada, Australia, the United Arab Emirates and France, and carried out assurance visits to local fishermen and traders from Africa and the Arabian Gulf region.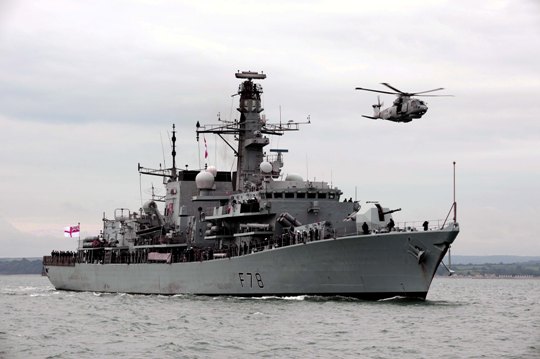 Commander Ben Ripley, Kent's Commanding Officer, said: "It has been an extremely demanding, yet satisfying, deployment with my Ship's Company facing a variety of challenges along the way. I must pay credit to the men and women that make up HMS Kent. They have tackled everything in their path in a thoroughly professional manner."

Able Seaman (Communications and Information Systems) Chelcie Evans said: "It has been a busy few months. Working with other navies has been interesting and I've learnt a lot. It's good to be home now and back to our families - that's when you can see what it's all been for."