Chinook In Isle Of Wight Training Exercise
29 November 2016, 10:13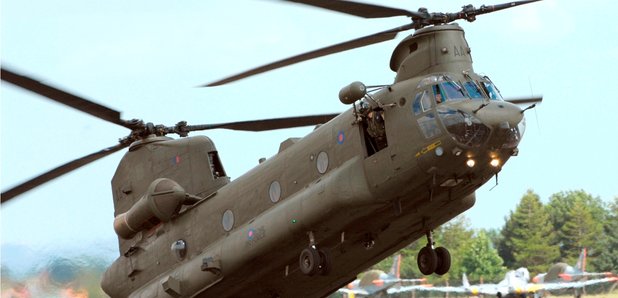 A big exercise is taking place on the Isle of Wight today, to test military aircraft landing sites in the event of a big emergency.
An RAF Chinook helicopter is taking part in the multi-agency exercise organised by the Isle of Wight Council Emergency Management Team.
In 2015, a number of helicopter landing sites were identified across the Island for use in the event of a major incident where military assistance may be required.
Today (Tuesday 29 November), a Chinook helicopter from RAF Odiham in Hampshire will visit a number of sites to provide training to local agencies and volunteer groups on helicopter landing site procedures.
In addition, the RAF will work with the Isle of Wight Fire and Rescue Service to demonstrate the lifting capability of the Chinook helicopter. A high volume pump, used by the fire service in major flood situations, will be lifted by the Chinook to demonstrate the 'under slinging' technique of the aircraft.
High volume pump operators from the Island's fire and rescue service, along with council staff who are trained to deploy to emergency incidents as liaison officers will be given the opportunity to fly in the aircraft while the high volume pump is being carried, enabling them to further familiarise themselves with the capability and safety aspects of the aircraft.
The Chinook will complete a number of "touch and go" landings at sites around the Island, at which members of the coastguard, council and WightSAR will put their training into practice.
The sites being visited by the Chinook are not being made public for safety and security reasons.
Councillor Phil Jordan, Isle of Wight Council executive member for public protection, said:
"Work of this nature will enhance arrangements that are already in place should, a major incident occur.
"It complements work being undertaken by town and parish councils in the development of their own community resilience plans, part of which may require arrangements for the establishment of helicopter landing sites, involving both multi-agency staff and voluntary sector groups with a role in emergency response.
"We would never want to see a major incident take place here, however residents can be assured resilience plans are in place should they ever be needed."