Boat Explodes On River Hamble
5 May 2016, 11:14 | Updated: 5 May 2016, 11:15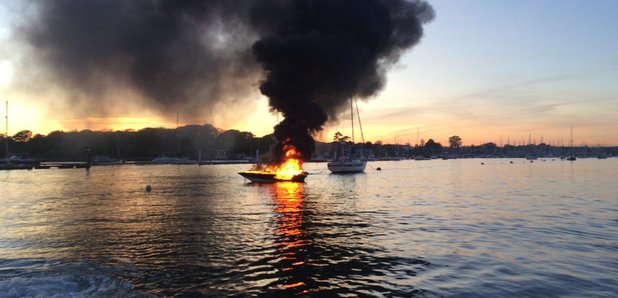 An explosion's destroyed a yacht on the River Hamble in Hampshire.
Lifeboat crews towed it away from other boats last night and got the flames out.
One person was on board but got away safely before it blew up.
A Hamble Lifeboat statement said: 'At approximately 8.30pm, whilst conducting training for the evening, a large explosion was seen and heard by the Hamble Lifeboat Crew from the direction of the Warsash Harbour Master.
'Hamble Lifeboat immediately informed the UK Coastguard of the incident and also requested Hants Fire & Rescue assistance. The lifeboat proceeded at safe speed and was on scene within a couple of minutes.
'The vessel was completely on fire within that short space of time and it was established that there was only one person involved and he was safe and well away from the vessel. The vessel on fire then drifted away from the pontoon and due to the flood tide went upstream.
'The lifeboat was able to safely attach a line and get the vessel away from other yachts and craft moored on the river. Once under tow, the lifeboat crew were able to use their pump to extinguish the fire whilst they brought it to the slipway, where the fire crews from Hightown Fire Station were waiting.
'Once it was established that there was no further danger and everything was safe, the fire crews and the lifeboat returned to their stations. Hill Head CRT and Hamble Harbour Master also attended.'
(Photos: Hamble Lifeboat)