Biggest British Ship Docks In Southampton
13 May 2015, 06:25 | Updated: 30 March 2016, 13:50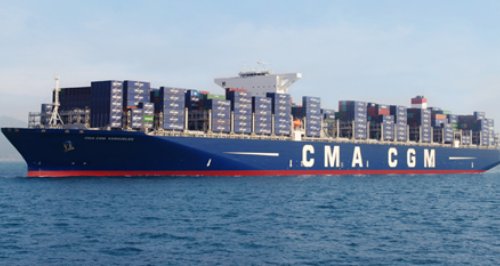 One of the biggest ships in the world is docked in Southampton Port today.
The CMA CGM Kerguelen is longer than the very biggest cruise ships and can hold almost 200,000 tons of cargo.
The biggest UK registered ship in the world is making her first, and only, UK call at DP World Southampton's container terminal in
the western docks on her maiden voyage which began when she left Shanghai, Hong Kong, last month.
CMA CGM Kerguelen rivals some of the world's biggest ships at 398m long and 54m wide. She is the first of a series of six vessels of the same size set for delivery this year.
Deployed on the FAL route linking Europe to Asia, CMA CGM Kerguelen calls in 11 countries and has the capacity to transport almost 200,000 tons of goods from clothes and televisions to sofas and washing machines.
CMA CGM Kerguelen will use Southampton's brand new deep water berth, SCT 5, which was specifically built and commissioned with four brand new super-post panamax cranes, to accommodate these ultra large container ships. Over £100 million has been invested by Associated British Ports to ensure that Southampton can continue to stay at the forefront of the UK container market.


The vessel is named after the 18th century French navigator Yves Joseph de Kerguelen de Tremarec, who discovered the archipelago which was named after him thanks to the suggestion of James Cook, one of England's prominent navigators.
- Longer than 4 football fields or 5.5 A380 Airbus.
- Bigger than The Empire State Building (381 m without antennas) and the Eiffel
Tower (324m).
- An engine as powerful as 900 cars of 100 horsepower (Renault Megane type or Ford
Focus type).
- A 21 knots thrust equivalent to that of 10 A380 airbus reactors (3,000 KNewton).
- The electricity production of a city of 16 000, or of 10 windmills (14 MWatts).
- 18 000 TEUs capacity, or 109 km of containers aligned.