Bids For £90m For Fareham And Gosport Roads
18 March 2014, 10:06 | Updated: 30 March 2016, 13:50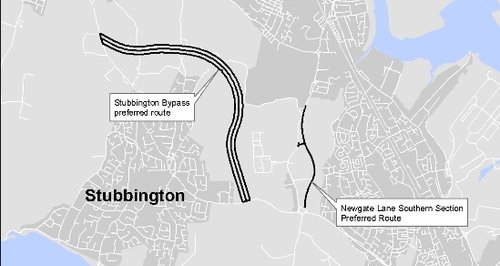 Bids for £90 million investment funding and plans to improve access to Fareham and Gosport have been approved by Hampshire County Council.
Measures to tackle traffic problems faced by residents, commuters and tourists when travelling to and from the Gosport Peninsula, include building a Bypass for Stubbington, improvements to the Southern section of Newgate Lane, further improvements to Peel Common Roundabout as well as enhancing the A27 Corridor.
The preferred route for the Stubbington Bypass has been chosen, as shown above.
The need to improve access to the Gosport and Fareham Peninsula is a key priority for Hampshire County Council and the Solent Local Enterprise Partnership (LEP). Congestion and journey time reliability is a real problem area and improving the transport network will undoubtedly encourage new investment and development into the area.

Hampshire County Council's Executive Member for Economy, Transport and Environment, Councillor Seán Woodward, said:
"Alleviating the traffic congestion in this area has been one of my top priorities and I am pleased progress is coming along at a good pace. The Solent LEP has recognised that improving access to the Gosport and Fareham peninsula is key to economic growth, investment and development in the area and I look forward to them putting forward the case for funding.

"I'm very keen to hear what people have to say about our plans for the Stubbington Bypass, Newgate Lane South, Peel Common Roundabout and A27 improvements. Therefore a further consultation on preferred routes and improvements will be undertaken in June, when residents will be able to express their support or raise any issues, concerns or suggest improvements to the various schemes and proposals."

Works have recently started at the A27 Western Way, Western Road and Newgate Lane North. Works are also planned for an interim scheme at Peel Common roundabout and for improvements to the A27 Station roundabout and Gudge Heath Lane for delivery in 2015/16.
The draft programme suggests that work on the A27 between Titchfield gyratory and Segensworth roundabout (including improvements to St Margaret's roundabout) could be completed in 2016/17, with the Stubbington bypass, improvements to Titchfield Road, Gosport Road, Newgate Lane southern section and the final phase of works to Peel Common roundabout to be completed in 2017/18, if the funding bids are successful.

The full report can be found online at: www.hants.gov.uk/councilmeetings.