Ban On Feeding Pigeons In Waterlooville
9 April 2018, 08:28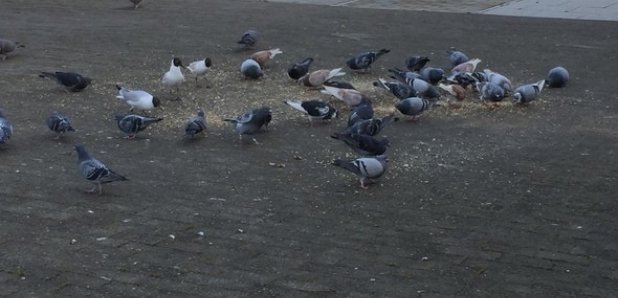 Anyone caught feeding pigeons in Waterlooville town centre could now be fined £80.
The council's banned it, to try and cut the number roosting on balconies in the Precinct.
They say the birds are a nightmare for people living in flats there, as well as businesses and shoppers.
A Public Space Protection Order (PSPO) is being introduced in the area.
Havant Borough Council said: 'Pigeons that are awaiting food have been roosting on residential balconies that surround the precinct despite preventative measures such as netting, sound boxes, spikes and decoy birds of prey being introduced. These pigeons have impacted the quality of life in the area and have effectively prevented residents from using their balconies and opening their windows.
'Local businesses and cafés are also suffering and are frequently having to clear pigeons mess off tables and chairs.'
Sophia Goodwin from JDI Property Holdings, who manage a block of flats in the precinct, said:
"Pigeons are the number one problem for our residents. We have invested a considerable amount into preventative measures for the building, however our residents are still suffering. We hope this extra measure will improve the situation".
Councillor Tony Briggs, Deputy Leader of the Council, said:
"The problem of pigeons is of real concern to residents of local flats and it's not fair that people have to live like this. By preventing individuals from feeding them, we hope we will reduce their numbers and the associated impact on businesses and residents.
"Our officers have spoken to a number of individuals feeding pigeons asking them to stop and explaining the associated impact. Local businesses have approached people feeding pigeons and signage in the area and a wider media campaign has been rolled out. Despite these effort individuals continue to regularly feed pigeons leaving us no other option but to follow the PSPO route".
The council says by limiting available food, the number of pigeons at the precinct is expected to decline with the Royal Society for the Protection of Birds (RSPB) and the Pigeon Control Advisory Service (PiCAS) advising this as best practice.