App-Based Bike Hire Service For Southampton
19 September 2017, 09:16 | Updated: 19 September 2017, 09:22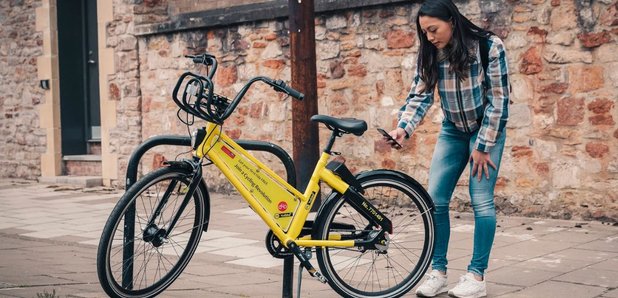 We're now able to use an app on our phones, to hire one of 300 bikes around Southampton.
The Boris Bikes-style scheme YoBike starts there today, with pick up and drop off points near the city centre and the universities. The company says it's usually really popular with students.
YoBike will launch an initial fleet of 300 share bikes in Southampton on Tuesday 19 September, with plans to scale to at least 700 bikes in the coming months. The launch is scheduled to coincide with the return of the community's 40,000-strong student population.
Southampton is the second UK market for YoBike, following its launch in Bristol. YoBike now has more than 25,000 registered users using a fleet of 1,000 bikes, taking more than 1,500 rides throughout Bristol every day.
"YoBike is far exceeding our expectations in Bristol, so we're thrilled to bring our world-class shared cycling initiative to Southampton," said YoBike Co-Founder & CEO Michael Qian.
"Southampton is a vibrant city, ideal for getting around and discovering all it has to offer by bike."
YoBike says it has 'eliminated the need for costly, obstructive and faraway docking stations, which have limited bikes'. Instead, individual
YoBikes are parked throughout the city and instantly unlocked with the tap of a mobile app.
A statement said:
'Made of high-quality aluminum alloy, the bikes are safe, durable and designed to the most stringent of European standards. They also include inbuilt GPS tracking, an alarm system that goes off when tampered with, and custom parts of little use to standard bikes, thus tricky to resell.
'YoBike was founded by Qian, a Cambridge University engineering graduate who previously worked at management consultancy McKinsey and US investment bank Merrill Lynch. Qian's co-founder is Forbes 30 under 30 entrepreneur Bin Wang.
'YoBike rides cost £1 per hour, capped at £5 for a full 24 hours of cycling. There is also a £39 annual YoBike membership. Student's and faculty members who sign-up using their university email are eligible for a discounted annual membership of £29 per year.'
Qian said:
"In Bristol we're seeing a huge demand from students wanting an easy, affordable and fun commute that works for them and for the environment. We are incredibly excited to extend the possibilities of bike-sharing to Southampton's vibrant, and progressive student community."
YoBike has worked closely with the Southampton City Council to designate hundreds of convenient parking spaces across the city for users to pick up and drop off their bikes. Councillor Jacqui Rayment, Cabinet Member for Environment and Transport, and Deputy Leader of Southampton City Council, said:
"Southampton City Council is keen to encourage more people to cycle in the city. Cycling helps to improve air quality for all whilst at the same time providing health and wellbeing benefits."