£25m Southampton Cancer Centre To Open
1 February 2018, 08:37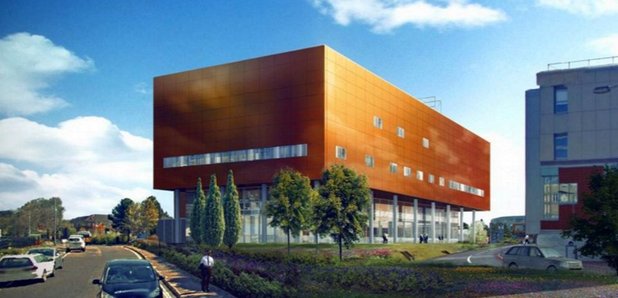 The UK's first cancer immunology research centre will open in Southampton, after a £25 million fundraising target was reached.
The facility, next to the General Hospital, will investigate ways to boost the body's immune system to fight the disease.
The new Centre for Cancer Immunology, based at University Hospital Southampton, will bring together world-leading cancer scientists and enable interdisciplinary teams to expand clinical trials and potentially develop more lifesaving drugs. It has been delivered entirely through philanthropic donations including fantastic support from local and national community fundraising efforts.
Scientists will move into the state-of-the-art Centre next month and Centre Director, Professor Tim Elliott cannot wait:
"We are thrilled to have reached the £25m target for our new Centre for Cancer Immunology and are eternally grateful to everyone who has contributed," he said.
"The efforts that people have gone to have been truly inspiring, we cannot thank you enough. The University has made major advances in tumour immunology and immunotherapy research and we strongly believe the new Centre will go a long way in discovering new treatments and helping more people.
"I am proud to be spearheading a world-class team in the UK's first centre dedicated to cancer immunology research, at such an exciting time in cancer immunology developments. By attracting the best talent and collaborating across disciplines, we will push the boundaries of knowledge about how our immune system works against cancer and accelerate towards more life-saving cancer treatments."
Immunotherapy is a revolutionary treatment, supercharging the body's natural defences to find and destroy cancer. The new treatments being developed by Southampton scientists, in the form of vaccines and antibodies, direct special immune cells against cancers. These 'killer' cells can control and shrink cancer and give long-lasting protection. The University is developing treatments to target some of the most aggressive forms of the disease including cancers of the lung and skin, and childhood neuroblastoma.
Professor Sir Christopher Snowden, President and Vice-Chancellor of the University of Southampton, said:
"This is a significant day for the University. We are delighted and proud to have reached our target of £25m to fund this very pioneering research centre, the first of its kind in the UK. We are immensely grateful to everyone who made a contribution to the campaign - big or small. The next few years will see great advances in immunotherapies for cancer with the University of Southampton at the very forefront of discovery."
One person who has benefited from Southampton's immunotherapy expertise is Patricia Marriott.
Over 10 years ago, Patricia had a mole removed from her shin. A biopsy revealed malignant cancer cells and she was diagnosed with melanoma (advanced skin cancer). The cancer quickly spread to her lung, breast, and liver and after multiple operations and seemingly endless episodes of chemotherapy, she was advised not to continue with any further medical treatments. Patricia was diagnosed as terminal.
However she was invited to participate in a clinical trial involving the immunotherapy drug ipilimumab. Following three months of treatment, there was noticeable improvement. One year later, she was diagnosed as completely cancer free - no cancer and no cancer cell markers.
Patricia, who lives in Warsash, now attends three-month checkups and will remain on the same clinical trial at Southampton indefinitely.
Now aged 78, she is living an active life, cycling, gardening and even attending ballet classes.
"The medical staff go to the ends of the Earth to find the right combination of therapies to give patients like me a second chance," she says.
"Now, the possibilities to live a full life are endless and it is thanks to all the clinicians and scientists who work tirelessly to find new ways of giving people hope. That's what this new Centre will bring - hope to so many people fighting this devastating disease."