351 Guns Surrendered In Hampshire Campaign
28 November 2017, 08:09 | Updated: 28 November 2017, 08:11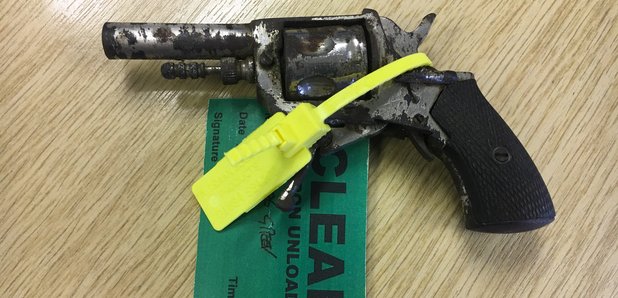 A sawn-off shotgun, self-loading pistols and wartime revolvers are among 351 handed into Hampshire Police.
They've finished a two-week gun surrender, aiming to prevent firearms and ammo being used by criminals. Another they took in was disguised as a walking stick.
The Firearms and Ammunition Surrender started on 13 November, urging people to take the opportunity to hand in any unwanted or illegal firearms to police, so that they could be disposed of safely.
95 quantities of ammunition were also handed in across Hampshire.
Firearms included a number of working illegally held self-loading pistols and working revolvers from World War One, including two that were used in the Battle of the Somme (above).
Other interesting firearms included a gun made to look like walking stick handed in on the Isle of Wight (below) and another made to look like a pen.
A number of illegally held shotguns, including a sawn off shotgun, were also handed in, as well as a revolver made in 1893, handguns, rifles and numerous air rifles and air pistols.
Other surrendered items include deactivated and imitation firearms and BB guns.
Hampshire joined police forces across the country to take part in the national campaign run by the National Ballistics Intelligence Service (NABIS).
During the two-week campaign, those surrendering firearms did not face prosecution for the illegal possession upon surrender and can remain anonymous.
However, this was not an amnesty and if further examination of a surrendered firearm reveals a link to a crime, this will be investigated.
Chief Inspector Emma Baillie, Head of Armed Response for Hampshire and Thames Valley, said:
"We would like to thank everyone who handed in any firearms or ammunition as part of this surrender.
"This means that there are 351 fewer firearms and imitation firearms on our streets which could have easily fallen into the hands of criminals.
"As a result our neighbourhoods are much safer, both for our residents and for our officers who work every day and night to protect them.
"We are very pleased that so many people took the opportunity to take part in this initiative and the number of firearms recovered certainly proves how valuable such a surrender is.
"Gun crime is low in Hampshire and the Isle of Wight and has not seen a rise others force areas have, however we cannot be complacent and we will continue to do all we can to make our communities safer."
Now that the surrender is finished, if you find a firearm or are uncertain about the lawful possession of a firearm, please call police on 101 or 999 in an emergency. Alternatively call Crimestoppers anonymously on 0800 555 111.