£1m Winchester Flood Wall Unveiled
23 August 2017, 09:27 | Updated: 24 August 2017, 08:32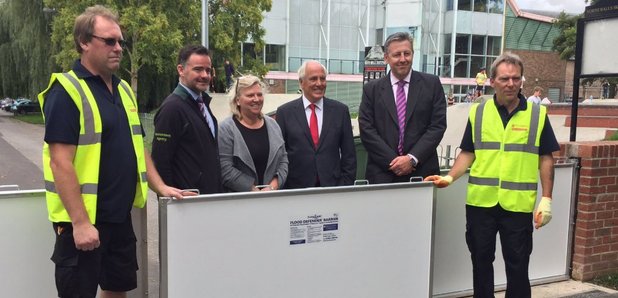 A flood-protection scheme. costing a million pounds. has been revealed in Winchester.
Storms in 2001 and also in 2014 left the St Bede's and River Park areas underwater. A new wall's been built which has barriers that can be slotted in when they're needed.
In the partnership jointly funded by Hampshire County Council (£290,000), Winchester City Council (£144,000), the Environment Agency (£591,000) and University of Southampton (£60,000), a new low wall has been installed featuring openings for everyday access, which can be closed when needed by slotting in flood gates, to protect the St Bede's and River Park areas of the city including St Bede School, Winchester School of Art, homes and businesses.
Leader of Hampshire County Council, Councillor Roy Perry, said:
"This flood barrier provides much needed relief and peace of mind for residents in the St Bede's and River Park areas, which were badly flooded in 2000/01 and 2013/14 following prolonged periods of heavy rainfall. Flooding is a shared problem which is why a shared solution was needed. I'm grateful that Winchester City Council, the Environment Agency and the University of Southampton have worked with us to build this flood defence to help protect the local community in this part of the city."
Councillor Jan Warwick, Winchester City Council's Portfolio Holder for Transport & Engineering said:
"We all recall how disruptive the floods were in 2013/14. These measures should help to reduce the risk of flooding and will hopefully provide reassurance in terms of preventing the damage floodwater causes to private and public property. The scheme is a good example of different parties coming together in order to find a way to tackle the problem of flooding, and shows our collective commitment to investing in the future of Winchester."
Wesley Jones, Flood Team Leader (Hants and IoW) at the Environment Agency, said:
"This partnership scheme has combined central and local government funding to quickly and efficiently deliver a reduced risk of flooding to nearby properties. This work complements the Environment Agency's recent construction of the natural flood storage areas upstream, so that Winchester is now in a much better position to manage flooding in the future."
The University of Southampton's Director of Estates and Facilities, Kevin Monaghan said:
"Winchester School of Art is an important institution in the city, attracting investment and jobs as well as the creative young people who help make Winchester such a vibrant city. In the past, severe flooding has caused significant disruption to our Winchester School of Art campus and the new flood defences are most welcome. We were pleased to work collaboratively with Winchester City Council, Hampshire County Council and the Environment Agency to find a long-term solution that protects us and also our neighbours."
The wall has been built in red brick along North Walls/Park Avenue to match existing municipal walls in the area, and blend into the street scene - similar to the recently constructed flood defence wall in Water Lane.
However, the core and foundation of the new wall is reinforced concrete - capable of resisting the calculated water pressures.
The scheme received positive feedback during a public consultation in 2015. Minor concerns about the removal of trees have been addressed, with eight new trees and shrubs planted around the nearby River Park Leisure Centre, as well as new shrub planting within the play park.
A second phase of the defences, to be funded by Winchester City Council and the Environment Agency, is currently being designed by Hampshire County Council. This scheme will look to add additional flood protection to areas south of the Durngate Bridge, with works likely to commence in spring 2018.