£13m For Southampton Arts Organisations
29 June 2017, 07:25 | Updated: 29 June 2017, 07:26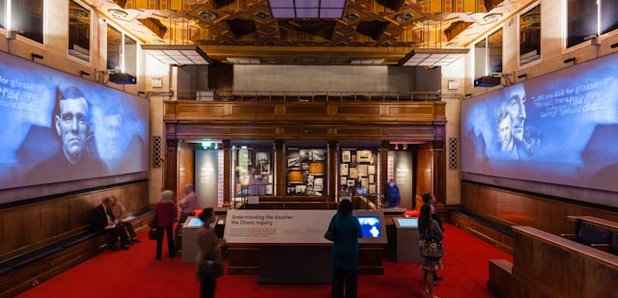 £13 million is being invested in arts organisations in Southampton.
The funding from Arts Council England will go towards seven places - including the Sea City Museum, Art Gallery and Nuffield Theatre - over four years. Funding for the city's cultural offer will increase by over 22% from 2018-2022.
There will now be seven National Portfolio organisations in the city, with 'a space' arts and Southampton City Council Museums joining the portfolio for the first time. John Hansard Gallery will receive a substantial increase on its current investment to support its move to a new site in the city centre. Four other organisations, Artswork, Art Asia, Nuffield Southampton Theatres and Turner Sims, continue to be supported at the same level as 2017-18.
Phil Gibby, Arts Council England's Area Director in the South West, said:
"This is an exceptionally strong portfolio of organisations delivering great arts and cultural experiences to audiences throughout the South West.
"We are delighted to be making a significant increase to our investment in Southampton. We are truly grateful to the City Council for their invaluable commitment to arts and culture which provides the environment for a thriving arts and cultural scene to flourish."
'a space' arts will continue its work in supporting and developing the city's artistic community by reinventing disused spaces across the city to provide affordable artists' studios and exciting exhibition venues, including the historic God's House Tower which will open in 2018.
John Hansard Gallery, currently based at the University of Southampton, has been offered substantial increased investment on their current funding award to capitalise on the exceptional opportunity to expand its work and attract new audiences afforded by its move to Studio 144, based in the city centre. In addition, the Southampton originated Zoie Logic Dance, based in nearby Eastleigh, has also been added to the portfolio.
Cllr Satvir Kaur, Cabinet Member for Communities, Culture and Leisure at Southampton City Council said:
"Southampton is on a journey to become the go-to cultural destination in the south of England, and this is a great vote of confidence from Arts Council England in the city's cultural offer. I'm immensely proud that Southampton will now be home to seven National Portfolio organisations, and delighted one of them will be the council's own museums. The funding will go towards developing Southampton Treasures, an exciting project that will enable residents and visitors to explore more of our outstanding collections.
"The council continues to work closely with partners, such as Arts Council England, to ensure culture is supported in the city, not only a driver of economic growth and tourism, but also as something that can enhance the lives of the city's residents".
James Gough, Director of Southampton Cultural Development Trust, added:
"This announcement of increased funding for Southampton supports the city's aims to being a major cultural hub within the region. National Portfolio organisations will play a crucial role in guiding, supporting and developing the city's ambitions to bid for City of Culture.
"The fact that Southampton is one of the few places that has received increased funding is recognition, on a national stage, of the work of a number cultural organisations over the years in establishing a strong base from which we can build towards the opening of Studio 144 later this year, the Mayflower commemorations in 2020 and beyond".