£11.7m Of Fake Goods Seized At Southampton Docks
10 December 2013, 06:48 | Updated: 30 March 2016, 13:50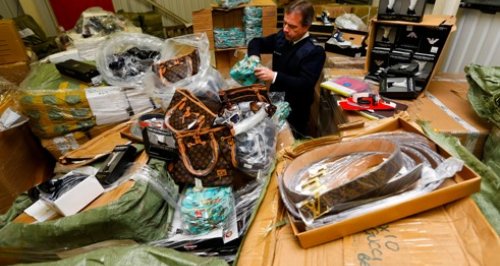 Almost £12 million worth of fake goods have been seized at Southampton docks in the past year.
The figure's been revealed as shoppers are being warned to avoid fuelling the illegal trade in counterfeit goods this Christmas.

Consumers should take extra care about what and where they buy items parading as luxury brands like Louis Vuitton or Armani but at rock bottom prices on the internet or in markets, the Border Force said.

Cash from the counterfeit trade funds organised crime and many who sell the items do not pay tax, costing the UK economy £1.3 billion a year in lost profits and tax revenues, it added.

Officers have so far stopped millions of pounds worth of inferior fake goods from entering the UK in the run-up to Christmas. These include counterfeit clothes, handbags, sunglasses, toys and DVDs.
238,000 items have been detained at Southampton docks, including hundreds Louis Vuitton bags and branded belts, over 22,000 various branded sunglasses and 2,000 items of fake jewellery - with the total value of goods estimated at £11.7 million.

Clive Robinson from Southampton trading standards said fake goods varied widely in quality.

"Some are obviously inferior but others we have to get experts in to decide whether they are fake,'' he explained.

"We are asking people to say to themselves that if they buy something fake would they like to receive what could a substandard present at Christmas however well packaged it is?

"Fake sunglasses are not often optically correct or offer UV protection, so there are safety problems there as well.''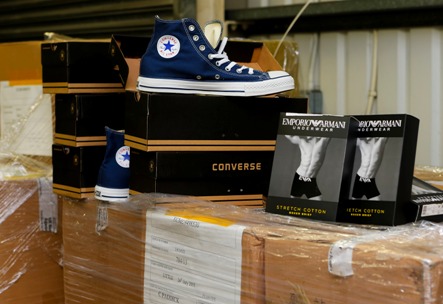 Immigration minister Mark Harper said:
"Cheap counterfeits undercut honest traders and leave shoppers with goods that are at best inferior to genuine products and, at worst, harmful or unsafe.

"The international trade in counterfeit goods is serious organised crime and is a serious threat to the UK economy in terms of lost profits and tax revenues.

"We have Border Force officers operating 24 hours a day at ports, airports and mail sorting centres detaining counterfeit items that could otherwise end up as gifts this Christmas.

"The public can play their part in disrupting the trade by ensuring they only buy from genuine retailers.''

Andy Lumb, assistant director Border Force South, added:
"Many people enjoy finding a bargain but quite simply, if a price appears too good to be true, whether found on the internet or at a car boot sale, it probably is.''

After suspected counterfeit goods are detained by Border Force, officers approach the rights holders to verify that the products are fakes.

The rights holder then decides whether or not to bring a private prosecution against the importer.

After this process is complete, the goods are destroyed.

Counterfeit items purchased over the internet - often by unsuspecting buyers - and imported through the postal system can be seized, leaving the buyer out of pocket, the Border Force added.