Work still to be done to extinguish fire
23 March 2018, 14:29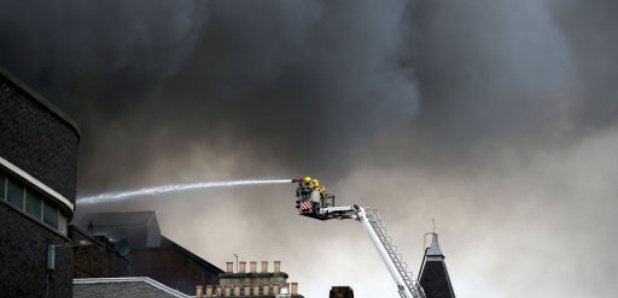 Firefighters say they will remain at the scene of a major blaze in Glasgow city centre for "as long as it takes".
The Scottish Fire and Rescue Service (SFRS) said a lot of work is still to be done to ensure the fire on Sauchiehall Street is completely extinguished.
About 30 firefighters and eight fire engines remain in attendance at the site and firefighting is "ongoing".
SFRS officials also confirmed there is no risk to the public from asbestos after concerns were raised during the height of the blaze on Thursday.
Assistant Chief Officer Lewis Ramsay said: "There is still a lot of work to be done on the ground to ensure that this fire is completely extinguished.
"We will remain on the scene for as long as it takes and we are absolutely committed to preventing any further damage to surrounding
properties and ensuring the area is made safe."
The SFRS say the blaze took hold in several commercial properties including a nightclub, causing extensive damage to a four-storey block.
Firefighters have been at the site since fire broke out just before 8.20am on Thursday.
Mr Ramsay added: "This was an incredibly difficult and complex incident - but the actions of our firefighters were and continue to be outstanding.
"This is a historic area of Glasgow - through our aggressive intervention and planning we were able to protect iconic buildings, such as the Pavilion Theatre, from significant damage.
"I would like to take this opportunity to thank the hotels, businesses and people of Glasgow who opened their doors to our firefighters and our emergency service partners for their invaluable and continued support."
An investigation will be carried out in "due course" to establish the cause of the fire.
At the height of the blaze, an asbestos warning was issued to local residents and businesses as firefighters battled the blaze, which was brought under control on Thursday afternoon.
Fire chiefs say atmospheric testing has concluded "there is no risk to the public" from asbestos.
Police said cordons would remain in place for several days while the safety of buildings was checked.
Chief Fire Officer Alasdair Hay added: "It's one of the biggest incidents we've had in the Scottish Fire and Rescue Service since its inception."
No-one was injured in the incident.
Shows at the Pavilion and nearby Theatre Royal were cancelled in the wake of the incident.
The Pavilion thanked emergency services for saving the "grand old lady" of Renfield Street.
A statement posted on the Pavilion Theatre Facebook page on Thursday evening said: "We managed to gain access tonight to ascertain the damage within the theatre.
"As the building across the lane is still currently pouring out smoke, this is still coming into the theatre.
"There is still a lot of smoke within the auditorium and the seats, plasterwork, carpets and curtains are covered in a layer of black ash. We
cannot see that we will be able to reopen within the next few days."