Weather warnings could reach highest level
27 February 2018, 16:20 | Updated: 27 February 2018, 16:22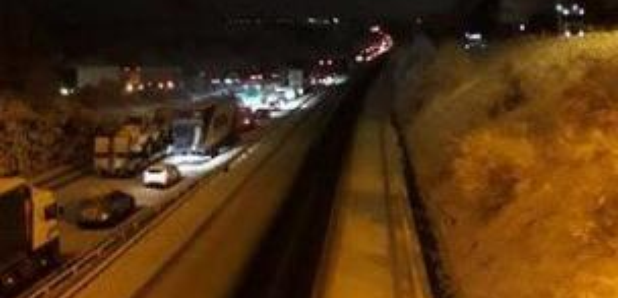 Warnings for heavy snow across Scotland could be upgraded to the highest-ever level, with commuters urged to avoid travelling on Wednesday and Thursday in affected areas.
Transport Minister Humza Yousaf said amber warnings for snow and freezing winds along the entire east coast and across the central belt between Edinburgh and Glasgow and as far west as Greenock from the early hours of Wednesday could be changed to red for extreme weather in certain areas.
Forecasters said the worst affected areas could see up to 40cm of snow and a wind chill of minus 10C.
Mr Yousaf said: "There is a possibility that the amber warning could be in some areas upgraded to a red. That is a warning for snow that we have never seen since the modern system has come into place in Scotland, that's what the Met Office tell me.
"We are right on the cusp, we are at the strongest possible amber warning, and right on the cusp of potentially becoming a red. That means a high likelihood of a high impact so that could be not just treacherous but frankly dangerous if you travel."
Met Office guidance for red warnings states: "Widespread damage, travel and power disruption and risk to life is likely.
"You must avoid dangerous areas and follow the advice of the emergency services and local authorities."
The worst of the weather so far has been south of the Border where four people have died in car crashes amid heavy snow.
Three were killed in a crash in Lincolnshire and another man died after a collision in Cambridgeshire on Tuesday morning.
Motorists have been warned to take extra care on the roads and drive to the snowy conditions.
Giving a forecast for Wednesday and Thursday in Scotland, Met Office meteorologist Aidan McGivern said: "With the snow coming increasingly aligned into bands accompanied by strong winds there is the risk of blizzards and the risk of really significant snow accumulations building up - 5 to 10cm widely (in the amber area) with 15 to 25cm locally and the potential for the hills to see 40cm of snowfall building up by the end of Thursday.
"Maximum temperatures on Wednesday will be barely above freezing and adding in that keen easterly wind it will feel more like minus 10."
The Transport Minister said businesses have been urged to allow as flexible working as possible for staff.
"We're preparing but clearly we can't stop the snow from falling or lower the intensity of those showers so it's going to be extremely treacherous," he said.
"That's why the message is very, very simple - avoid travel if you're in the amber affected area."