Warburton Confirmed As New Rangers Boss
15 June 2015, 17:17 | Updated: 30 March 2016, 13:50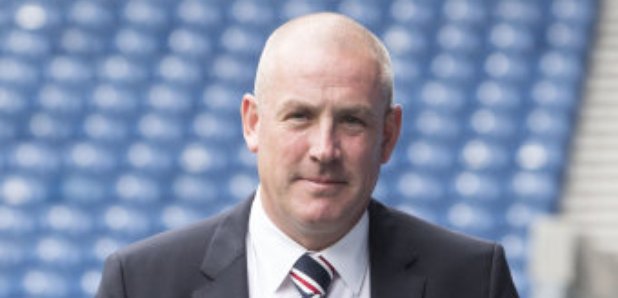 Mark Warburton made himself a millionaire in the City of London - now Rangers' latest boss has vowed to strike it rich at Ibrox.
The former Leicester youth turned to a successful career trading stocks and shares after knee injuries curtailed his playing ambitions.

But after banking enough money to secure his future, the 52-year-old returned to the game a decade ago as he embarked on a job change that has now taken him up the marble staircase into the Light Blues manager's office.

However, the former Brentford boss knows he is now facing his biggest challenge yet after being named just the 15th man to have managed Rangers.

His first task will be to finally lead Rangers to the Scottish Premiership after this season's promotion bid ended in humiliation.

Warburton, though, insists he has the skills to end the fallen Glasgow giants' lower-league exile at the first attempt.

Speaking after he and his assistant, former Gers skipper Davie Weir, penned three-year deals, he said: "I was no high-flying city slicker. It was more a case of working in tight, competitive teams of traders aged 19 to 35 years of age. It was hugely competitive and testosterone-filled, with people looking to earn money.

"That's the same as a football dressing room, so there are many skills you can transfer from that trading environment into the football one.

"That proved to be the case at the old club and hopefully it will be the same here.

"Our job is to take the club in the right direction. It's not rushing into things, it's making firm foundations for the future of the club.

"Any competition Davie and I enter, we aim to go as far as we can. Our aim is to win the division, of course it is.

"Our job is to come in here, work with the squad, gel quickly and be very aggressive in terms of how we play the game and hopefully achieve our targets, which is promotion."

Rangers thought they had salvaged their promotion hopes last season when Stuart McCall steered the club into the play-offs.

But the interim manager's hopes of landing the job permanently disintegrated when his old Motherwell side dished out a 6-1 aggregate drubbing in the play-off final.

With Warburton now in charge, chairman Dave King is looking for the Englishman to kick-start Rangers' rejuvenation as a football side while he concentrates on healing its off-field issues.

But the new boss - who was axed by the Bees despite leading his side to the Championship play-offs - cautioned fans not to expect miracles right away.

"It won't happen over night," was his reply when asked how quickly fans could expect to see their team challenging Celtic for honours. "There's no point us sitting here lying to you and saying it's going to happen in a week's time.

"That's not the case.

"We're going to put as much work as possible into a playing squad and make the right additions that add value on and off the pitch to Rangers Football Club and hopefully achieve that first aim of winning promotion."

With just nine established senior pros still under contract, Warburton will have his work cut out rebuilding the Gers squad.

He gave a wry smile, though, when asked about the possibility of luring Lewis Macleod - sold to Brentford by the club's unpopular former board in January for a cut-price £500,000 - back to Ibrox.

But he knows he will have to act quickly to bolster his playing options.

Warburton said: "This is our first day and identifying new players is an immediate priority for us. Every coach has contacts in the game and players he wants to attract.

"We have our ideas and our job now is to sit down with the board and discuss if they add value to the playing squad here.

"The ambition of the club is very clear. Our job is to bring suggestions to the table. If we can do that then I'm sure we will get the support we need ... if they are the right players. But they have to add value on and off the pitch.

"I've looked at the squad over the last few weeks but it's important to look at them in more detail. I've got a idea of the playing squad right now but I realise it's quite lean. The work starts today for David and I to push forward and learn as much about the squad as possible and make decisions.

"We have to move quickly. Now is a busy time. Players are away on vacation and agents are working.

"But our job is to target the right individuals and go through the process and see if we can secure them."