US Tour Is Trade-Focused, First Minister Insists
5 April 2017, 07:21 | Updated: 5 April 2017, 07:24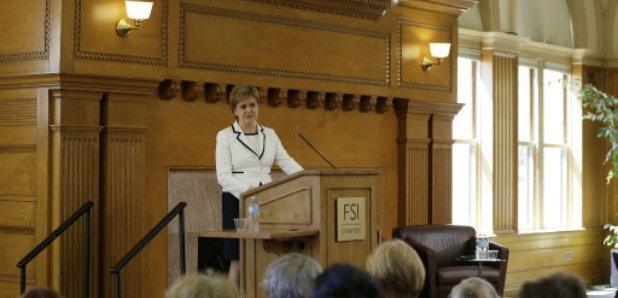 Nicola Sturgeon has insisted her US tour is focused on trade after opponents criticised her promoting Scottish independence on the taxpayer-funded trip.
The First Minister told an audience at California's Stanford University on Tuesday that she ''fervently'' wanted the country to become independent and was ''fairly certain'' there would be a second referendum.

It prompted criticism from the SNP's opponents, with Conservative chief whip John Lamont saying it was a ''great shame'' Ms Sturgeon was using the ''taxpayer-funded trip'' to promote independence.

After her speech at Stanford, Ms Sturgeon said: ''The focus of the trip hasn't really been on independence. The focus of the trip has been on trade and business and investment relationships.

''There is, I detect, a real desire to strengthen economic links between the United States and Scotland. That's been the focus of the trip.

''Obviously there is heightened awareness and interest in the Brexit discussion and also what that means for Scotland's constitutional future.''

Ms Sturgeon confirmed she had no plans to meet any members of Donald Trump's administration during her US visit but said it was not a ''deliberate decision'' to avoid the president.

''This trip has been principally business focused so we're not going to Washington on this occasion,'' she said.

''I fully expect, during his presidency, President Trump will come to the UK and come to Scotland. As First Minister of Scotland, I'm not going to decline to meet him.''

Ms Sturgeon said she expected the UK Government to respond ''fairly soon'' to her Section 30 letter formally requesting a second referendum on Scottish independence and she would outline her response after Easter.

''We've written the letter, we'll wait for the formal response and we'll set that out in due course,'' she said.

Amid continuing tension between the UK and Spain over Gibraltar, Ms Sturgeon said she had ''sympathy'' for the British overseas territory and the ''position it is now finding itself in''.

She said: ''One of things I think is the most regrettable about the campaign in the EU referendum, and this is the responsibility of the UK government, very little attention was paid to the implications, certainly for Scotland ... Northern Ireland and the peace process there and the implications for Gibraltar.

''I think we're only now beginning to see what the implications are.''

Ms Sturgeon will give a speech at the United Nations headquarters in New York on Wednesday before completing her five-day US trip on Friday.