Trump Protests Under Way In Scotland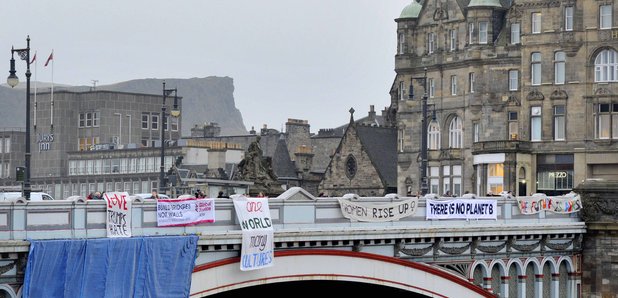 Protests against Donald Trump have begun across Scotland ahead of his inauguration as the 45th president of the United States.
Banners were dropped from the side of Edinburgh's North Bridge while anti-trump campaigners will march to the US Consulate later on Friday.

Mr Trump has strong links to the country and last visited in June 2016 during the US election campaign.

He is expected to use the bible given to him by his Scottish mother, alongside one that once belonged to Abraham Lincoln, during his inauguration.

Speaking ahead of the event in Washington DC, First Minister Nicola Sturgeon said: ''I congratulate President Trump on taking office today.

''There are great global challenges to be faced and I wish his administration well in dealing with them.

''The ties of family, friendship and business that bind our countries are very deep and long-standing.

''We share fundamental values of equality, tolerance and human rights, and I hope to see these values upheld during the new President's term in office.

''Scotland and the United States will continue to co-operate in those areas where we share common interests and goals, and when appropriate we will also look to have constructive dialogue on issues where our views differ.''

Ms Sturgeon had criticised Mr Trump during the US election campaign and had voiced her support for his Democratic opponent Hillary Clinton.

Following his White House victory, she offered her congratulations and the pair spoke in a short telephone call last month to discuss ''the long-standing relationship between Scotland and the United States''.

Mr Trump's mother Mary Anne MacLeod was born and brought up on the Hebridean island of Lewis before emigrating to New York while the businessman has made his own mark in Scotland with two golf resorts in Aberdeenshire and Ayrshire.

His inauguration has been met with protests by some Scots.

The banner drop in Edinburgh was part of the grassroots Bridges Not Walls project and was one of more than 100 drops taking place in towns and cities across the world, including Glasgow, Aberdeen and London.

The banners highlighted issues including women's rights, immigration and climate change, with slogans including ''women rise up'', ''migrants welcome here'' and ''there is no planet B''.

Edinburgh Bridges Not Walls spokeswoman Alys Mumford said: ''On Trump's inauguration day we're taking action to show our support for groups under attack - here in Scotland and the UK, across Europe and in the US - and to reject the rise of a dangerous and divisive far-right politics.

''The new normal that the far-right is seeking will roll back decades of progress on civil rights, gender equality and the environment.

''It is up to all of us to take responsibility for actively rejecting this. Bridges Not Walls is about making a public commitment to fighting a politics of hate and bigotry at all levels, including the everyday.''

Mr Trump's inauguration is due to take place shortly before 12pm local time (5pm GMT).

Hundreds of protesters are expected to march from the foot of Edinburgh's North Bridge to the US Consulate on Regent Terrace to coincide with the event.