Trump Accused Of "Blackmail"
7 January 2016, 10:40 | Updated: 30 March 2016, 13:50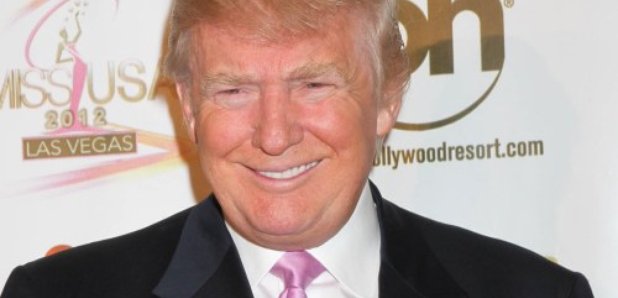 The campaigner petitioning Parliament to have Donald Trump banned from the UK has said his threat to pull hundreds of millions of pounds of investment could be considered "blackmail''.
Suzanne Kelly, from Aberdeen, hit back at the US presidential hopeful, who has a number of business interests in the UK, including Trump International Golf Links in Menie, Aberdeenshire, and the Trump Turnberry resort in South Ayrshire.
More than 570,000 people have signed Ms Kelly's petition for him to be refused entry to the UK, and the issue is to be debated at Westminster later this month.
It came as part of an international backlash to comments Mr Trump, who is seeking the Republican Party's presidential nomination, made about Muslims.
In a statement on Wednesday the Trump Organisation said any move to restrict travel would immediately bring an end to all future investments it is contemplating in the UK - including plans to develop the Turnberry site and a possible future investment of £500 million at Trump International Golf Links.
But Ms Kelly accused him of "throwing a temper tantrum'' as she questioned the value of his investments to Scotland.
She said: "Donald Trump is a man that knows the cost of everything - well, a hugely inflated cost of everything - and the value of nothing.
"He's threatening Scotland once again, as he did over the offshore wind farms, that if he is barred from entering the UK, he'll pull out of his Scottish golf courses. The irony of a man who wants to ban Muslims from entering the US throwing a temper tantrum over being similarly banned himself is apparent to everyone except the tycoon himself.''
Mr Trump has previously threatened to pull investment from his Aberdeenshire golf resort if a planned wind farm off the coast gets the go-ahead, with the US billionaire taking legal action in a bid to halt it.
His call for a ''total and complete shutdown of Muslims entering the United States" during the presidential campaign also sparked controversy
Prime Minister David Cameron condemned the remarks as ''divisive, stupid and wrong'', but has also made clear he did not support banning Mr Trump.
Ms Kelly said: "Perhaps a man who is actually suitable presidential material might have done things differently - and instead of issuing hollow economic threats would have profusely apologised for painting all Muslims as terrorists who need to be monitored and kept out of America.''
She added that Mr Trump "had promised millions flowing into our economy every year'' from his golf resort in Aberdeenshire, but said the reality was "a man who's stopped our experimental offshore wind farm programme thereby costing thousands of jobs and who has cost untold sums in fighting his court appeals, which finally failed''.
She questioned the number of "permanent, desirable jobs'' to have been created and asked: "How do the jobs created weigh against the jobs in the energy sector his appeals are costing? How does his investment compare to the cleaner energy we might be enjoying?
"For me, even if half of his figures stacked up, there is no amount of money that for me will ever undo the environmental damage at Menie.
"If our electors value money more than the rights of Muslims - and everyone else he has denigrated - then we may need new electors. Some might consider this to be blackmail on his part - and as such there's more than a little deja vu about it.''
Ms Kelly spoke out after a statement from the Trump Organisation warned that ''Westminster would create a dangerous precedent and send a terrible message to the world that the United Kingdom opposes free speech and has no interest in attracting inward investment if he was barred from the country."
It said: "Over the coming years, we intend to further develop Trump Turnberry and invest millions more at the site, creating sustained economic growth for South Ayrshire and Scotland. Additionally, we have plans to invest £500 million towards further development at the 1,400-acre Trump International Golf Links.
"Any action to restrict travel would force the Trump Organisation to immediately end these and all future investments we are currently contemplating in the United Kingdom.''