Tribute Band Singers Form Cast For One D Musical
30 September 2015, 07:21 | Updated: 30 March 2016, 13:50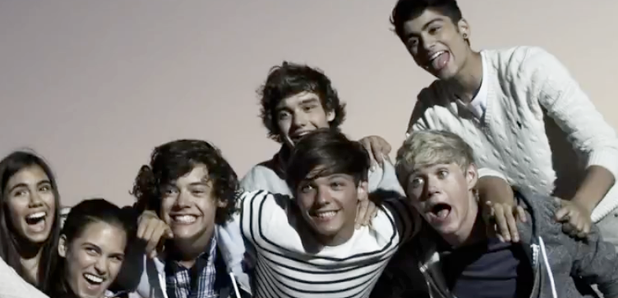 Zayn Malik has returned to One Direction - but only in a new musical about the band.
Formed in 2012, Only One Direction is a tribute act made up of 20 rotating singers - five of whom have been picked out as the cast of the new musical, The One Direction Story.
The chosen fews are Matthew Maguire as Harry Styles, Henry Allan as Liam Payne, Matt Ryan as Louis Tomlinson, Matt Brinkler as Niall Horan and Jamie Searls, who'll be brought back into the fold as ex-member Zayn.
"They've tried to get rid of me,'' said Searls, "but I've stayed. They're not getting rid of me that easily. We like to keep it as a five piece, it's a bit of nostalgia for One Direction fans. While they can't get Zayn on the real tour, they can get Zayn in the West End.''
The tribute act life is a jet-set one that's seen them tour the malls of Dubai, gig for super-fans up and down the country and whip 10,000 screaming festival-goers into a frenzy of peppy pop beats.
Now they'll be settling down for two nights (and days) in London's West End. Taking over the Lyric Theatre on Shaftesbury Avenue from October 24-28, their new musical tells the story of the past five years of the band and feature 21 of their biggest hits.
It is billed as "a perfect family-friendly show and pop concert all in one'' and "an interactive concert extravaganza''.
If you want to know what's really going to happen in the show, Allan (who plays Liam) would does not give much away with his two teasers: "Old Man'' and "GI Joe''.
One Direction fans are not known for taking kindly to anyone with the hubris to style themselves after the four-piece.
Earlier this year tribute band One And Only Direction were hounded on Twitter by angry fans with the hashtag #Stopyourenot1D.
The boys, however, are not too worried.
"We're not lookalikes, we're not impersonators, so I don't think they have any reason to be angry,'' said Brinkler (Niall Horan).
But as Maguire pointed out, sporting Styles's garland of curls can get you a few heckles in the street. (And he promises it's not a wig.)
"I get yelled 'Harry Styles' at all the time in the street...I haven't grown it for this, I have it for myself but I feel one step behind because Harry's is always a bit longer. That's where I'm trying to get it to, he's always one step ahead,'' he said.
Brinkler is one of the band members who has met the real line-up.
He caught up with Styles a few years ago, who seemed shocked that the band could follow in the footsteps of Queen, Michael Jackson and Abba with their own West End show.
"I had a chat with Harry about the idea (of a show) a few years back when it all started.
"Maybe they'll come along!
"He said, 'There's a show about us? Already?' But I think the last five years have been crazy, they've been so intense that there's enough people out there to want to see a show about their lives and their music,'' said Brinkler.
If anyone has watched five men squeeze into a dirty London phone box for a photoshoot, they will have realised life is not as glamorous for the cast of the musical as being in the real band - but it can be as crazy.
"There's one woman, her name is Up All Night Sue on Twitter, and she's got tattoos of us,'' said Searls.
"And there's Sarah and Sophie, and Sarah's got a new tattoo about the band,'' added Brinkler.
With the real One Direction going on hiatus in March 2016, Only One Direction are poised to slip into their place and grow their tattooed league of fans.
Find out more details about the show at www.onedirectionstory.com