T In The Park Bosses Hail Strathallan A Success
13 July 2015, 07:52 | Updated: 30 March 2016, 13:50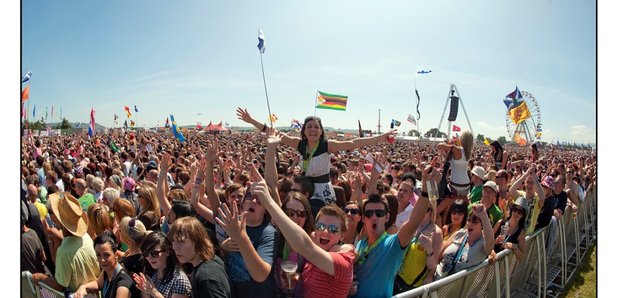 The boss of T in the Park says the festival's new home has been a success.
Organisers admit it's been very challenging moving to Strathallan Castle, and apologised to fans for long travel delays leaving over the weekend.
Fans reported long queues at drop-off and pick-up points on Friday and Saturday evening, with some cars becoming stuck in the mud and having to be towed.
There were also some delays getting out on Sunday.
Boss Geoff Ellis says they are sorry that happened: "That's a genuine heartfelt apology. It's not what you want at the end of the night and we want to get people away as quickly and safely as possible
''It's a brand new site and the weather wasn't kind to us (on Saturday) which led to a lot of people having to be towed from the west car park slowing us down because we don't have the benefit of 18 years of infrastructure that we did at Balado."
Some people were also caught in a crowd crush moving from one stage to another,
Geoff Ellis says it's definitely the right site: "Obviously we'll get things better next year but you don't get Utopia in Year one.
"Absolutly no regrets at all and we'll have it here again next year. We had to move from our previous home which we had invested a lot of time and money in over 18 years.
"We've invested several million pounds moving it over here."
Showers turned the site into a mud bath, but that did not dampen the spirits of tens of thousands of revellers who enjoyed dry weather and sets from artists including the Stereophonics, Paloma Faith, and James Bay on the final day.
Speaking just before taking to the main stage, James Bay said: "Scottish crowds are some of the best. And I'm not just saying it, I know everyone thinks oh he's just saying it, but I've played around the world and had a great time in front of a lot of crowds, but some stand out and Scotland is one of them.''
Susan Boyle was among the thousands of fans enjoying Noel Gallagher's High Flying Birds finale.
The singer, from Blackburn in West Lothian, posed for snaps with fans and mingled backstage - wearing a native American head-dress.
Police reported there were 44 arrests since campsites opened on Thursday.
Superintendent Colin Brown said: "Once again, the vast majority of T in the Park festival-goers have behaved themselves, enjoyed themselves and kept spirits high.
"We are very happy with the positive work of all agencies involved with this year's festival.''
Police say the death of a man on the campsite at the weekend isn't suspicious.
36 year old Andrew West was from the North of England.
The Scottish Ambulance Service reported 606 visits to the hospital tent this year, compared with 858 in 2014.
Nick Moore of the Scottish Ambulance Service said: "We would like to thank all festival-goers for adhering to our advice on how to prepare for this year's T in the Park, resulting in a notable drop in numbers coming through first aid.''