Think tank says tax rise would be needed to cover funding cuts
13 December 2017, 06:22 | Updated: 13 December 2017, 06:24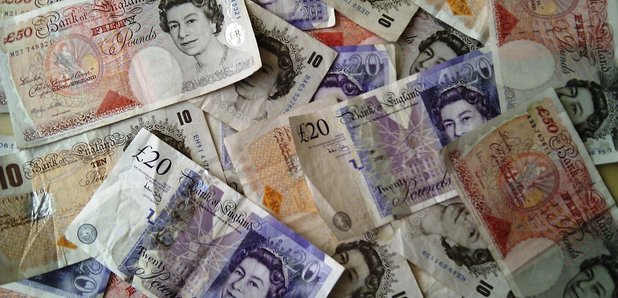 Scotland's budget for day-to-day spending could be slashed by £700 million a year in just two years' time, a think tank has warned, adding that a 2p hike in the basic rate of income tax would be needed to cover the cuts in funding.
IPPR Scotland said that without any increase in income tax, areas other than police and the NHS could see budgets fall by more than 10% between 2017-18 and 2019-20.

Cuts to those "non-protected departments" could fall by £1.3 billion a year, the think tank stated - an amount which would require the basic rate of income tax to go up by 4p to fully mitigate the spending reductions.

It published its analysis of public spending ahead of the Scottish Budget on Thursday, December 14.

Finance Secretary Derek Mackay is widely expected to set out tax rises for higher earners, when he reveals his tax and spending plans for 2018-19 to Holyrood.

Research by polling company Survation earlier this month found 60% of Scots would ''personally be willing to pay more tax'' if the cash raised went on improving public services or tackling inequality.

But another think tank the Fraser of Allander Institute has already warned a 1p rise in income tax in 2018-19 may not be enough to provide more cash for vital public services.

Economic experts there said instead that such an increase may only be "just enough" to offset the cut ministers will receive in their block grant from Westminster.

Now Russell Gunson, the director of IPPR Scotland, has warned that tax rises alone are unlikely to be enough to bring an end to spending cuts, and may only help in the short term.

The think tank based its figures on projections from the UK Government on how much ministers at Holyrood would raise using devolved taxes.

Mr Gunson said: "Scotland is facing a really difficult budget this week, with further cuts to the Scotland block grant.

"We've looked at the UK projections for Scotland's taxes, and, if correct, it shows that cuts to day to day spending could reach £700 million per year by 2019.

"With commitments in Scotland to increase funding on the NHS and to protect police funding, cuts to everything else could reach £1.3 billion per year by 2019, over 10% in just two years."

He added: "The Scottish Government has started a debate on tax, and is clearly considering increasing income tax in Scotland. We welcome this and clearly tax rises are going to be needed to help reduce public spending cuts over the next year or two.

"However, tax rises alone are unlikely to end the cuts we face for long.

"Any increase in tax may only buy us a year or two of protection from cuts on this scale. Either we will need to see further tax rises over the coming years or find ways to deliver a significantly stronger Scotland economy, and increased tax receipts".

A Scottish Government spokesman said: "The UK Government is cutting our discretionary block grant by £2.6 billion in real terms over the 10 years to 2019-20.

"The serious economic threat posed by Brexit, coupled with continuing UK Government austerity following the UK Government's budget last month, means we are seeing increasing pressure on our public services.

"Following a careful and considered conversation around income tax, we will publish a balanced package of tax and spending proposals as part of the draft budget on 14 December."