The legislation that could lead to IndyRef2
29 May 2019, 14:13 | Updated: 29 May 2019, 14:14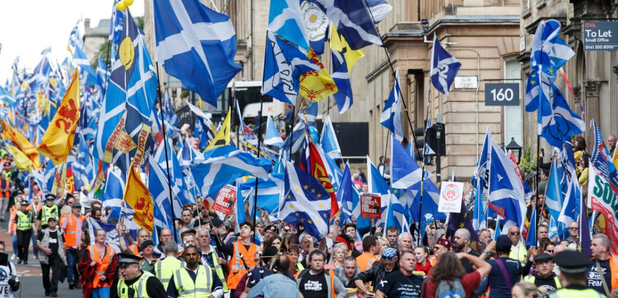 Legislation that could pave the way for a second Scottish independence referendum has been published at Holyrood.
First Minister Nicola Sturgeon said the Referendums (Scotland) Bill would give people north of the border the "opportunity to choose a better future".
The legislation does not include the timing of a possible second referendum or the question that would be put to voters - leaving these to be set by secondary regulations.
The Scottish Government said this could happen if Westminster grants Holyrood the power to stage another vote via a Section 30 order - something outgoing Prime Minister Theresa May repeatedly refused to do.

As the Bill was published Ms Sturgeon said: "Now, more than ever, it is essential that we keep Scotland's options open so that people have the opportunity to choose a better future.
"An independence referendum within this parliamentary term will give Scotland the opportunity to choose to be an independent European nation - rather than have a Brexit future imposed upon us.
"Throughout the Brexit process, Scotland has been treated with contempt by Westminster, and our efforts to find compromise and protect the interests of the people of Scotland, who voted overwhelmingly to remain in the EU, have been ignored.
"We will seek agreement to a transfer of power at an appropriate point to enable an independence referendum that is beyond challenge to be held later in this parliament. It is essential the UK Government recognises that it would be a democratic outrage if it seeks to block such a referendum - indeed, any such stance would, in my view, prove to be utterly unsustainable."
A Bill paving the way for a second Scottish independence referendum could be fast-tracked through Holyrood if "circumstances change", Scottish Brexit Secretary Mike Russell said.
He warned the UK was "heading for a no-deal Brexit" under the Conservatives - and that some of the leadership candidates vying to succeed Theresa May "positively welcome that disastrous direction of travel".
He insisted Scotland "must not be forced against our will" to leave the European Union without a deal.
With the Scottish Government now having published a Bill setting out the framework for future referendums, the Constitutional Relations Secretary said this legislation could be speeded up if needed