Tennant 'Chuffed' To Have Mad To Be Normal Premiere In Glasgow
27 February 2017, 06:28 | Updated: 27 February 2017, 06:29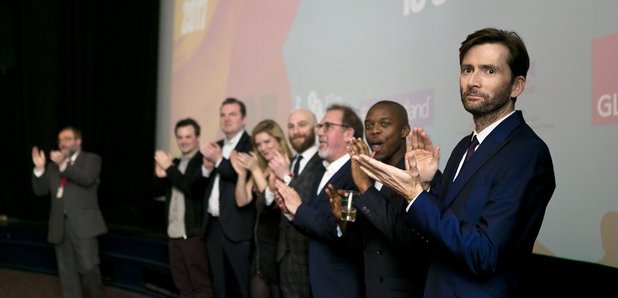 David Tennant has said he felt like he had gone ''full circle'' as he attended the world premiere of his latest film Mad To Be Normal in Glasgow.
The Broadchurch star, originally from Bathgate in West Lothian, brought the curtain down on the 13th Glasgow Film Festival (GFF) on Sunday night.

He stopped to talk to crowds of fans, taking selfies and signing autographs after he arrived on the red carpet at the Glasgow Film Theatre.

The screening of the movie, which also stars Sir Michael Gambon, Elisabeth Moss and Gabriel Byrne, brought to a close an 11-day celebration of film in the city.

Tennant plays controversial Scottish psychiatrist RD Laing, who was seen as a radical when he set up a medication-free community for psychiatric patients in London in the 1960s.

The former Doctor Who star, who studied drama at the Royal Conservatoire of Scotland in Glasgow from 1988 to 1991, then known as the Royal Scottish Academy of Music and Drama, frequented the Glasgow Film Theatre during his studies.

He said: ''I'm so chuffed we're at the Glasgow Film Theatre, this is where I came as a student, so this feels like a bit of a full circle for me.

''I hope he (RD Laing) would be very pleased - I hope he would be pleased about the film and I'm sure he would be pleased we were in Glasgow to premiere it.

''He was a complicated man but he was a fascinating man so he is someone that I was completely entranced by and fascinated by and I just hope we have done him justice.''

Earlier this month, Tennant said he would back Scottish independence in a second referendum, despite previously keeping quiet on the issue.

Speaking at the premiere, the 45-year-old said: ''The thing is, I don't live in Scotland and I don't get a vote so there's nothing I say that is relevant.

''I can have an opinion but it shouldn't influence anyone.

''I'm passionate about Scotland, I would love to continue living in the same country, but at the same time I can appreciate the appeal of remaining in Europe - it's a difficult one.''

Speaking about working with Tennant, Mad To Be Normal director Robert Mullan said it was ''wonderful''.

Mullan added: ''He's very professional and good at what he does, kind to other actors, whether they are established or first-timers.

''He's just a very kind, courteous, considerate actor and he's just very talented.''

The GFF has hosted more than 300 events and screenings since its opening on February 15.

About 40,000 people attended the 2016 festival, with organisers expecting a similar audience to have attended this year.