Team Scotland touch down after Commonwealth Games success
17 April 2018, 17:16 | Updated: 17 April 2018, 17:19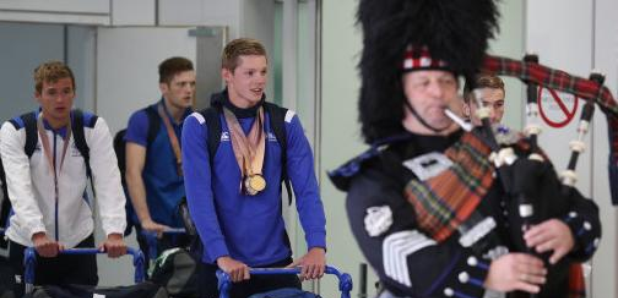 Scotland's Commonwealth Games stars have been welcomed home after setting a new overseas medal record.
Friends and families gathered at Glasgow Airport on Tuesday afternoon to greet athletes and support staff who were piped into the arrival area after weeks in Australia at the Gold Coast Games.
Scotland won a total of 44 medals, behind the 53 won on home soil at Glasgow 2014 but the best return at an overseas Games.
Among those with extra luggage on their return was swimmer Duncan Scott, who won six medals in the pool, becoming Scotland's most decorated athlete at a single Games.
Despite his success, the 20-year-old said his feet will remain on the ground with exams to sit next month in sports studies.
"The night before I swim I turn off all social media and then after I finish competing it's a day or two before I turn it on, so I've gradually been seeing all the messages come in and all the hype.
"The support I've always had from family and friends, and beyond that, has been amazing. Maybe a few more people in the airport recognised me but, beyond that, it's been the same."
Scott joked: "My flatmate has been away, so I'll be going back to a freezing flat.
"It will just be the same, I have an exam in three weeks so it will be back to my usual life - there's nothing else to do."
Diver James Heatly followed in the footsteps of his grandfather by winning a medal in the men's 1m springboard and is looking forward to celebrating with family on his return.
He said: "It's nice to be back after that long flight and to come back with this (medal) is incredible.
"I can't put it into words and I'm looking forward to seeing everyone now I'm back. My phone has just been going off so I have a lot of messages to get back to."