Tata Steel Staff Protest Job Cuts
7 November 2015, 12:39 | Updated: 30 March 2016, 13:50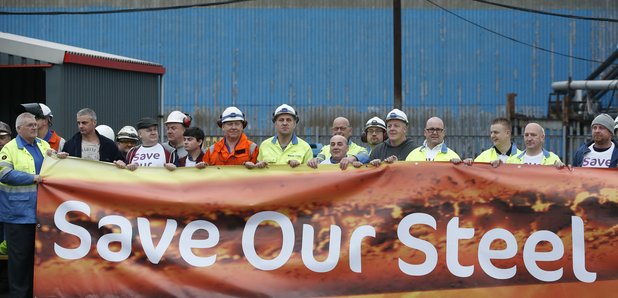 Hundreds of steel workers and supporters have staged a march in a bid to save jobs and prevent the closure of the industry in Scotland.
Steel firm Tata announced the mothballing of its operations at Lanarkshire sites Dalzell in Motherwell and Clydebridge in Cambuslang last month, with the loss of 270 posts.
Around 300 workers, union leaders and supporters marched from Dalzell to the site of the former Ravenscraig steel works calling for action to save the threatened plants and jobs.
First Minister Nicola Sturgeon has promised to do everything in her power to secure the future of the industry and set up a taskforce with the priority of finding a new commercial operator for the two plants and support workers facing redundancy.
The group, which has already met, is comprised of representatives from Tata, South and North Lanarkshire councils, trade unions, Scottish Enterprise, elected representatives and industry bodies.
Community union representative Derek Fearon said: "We are trying to raise awareness of the campaign, and hopefully through this Tata will become a responsible seller.
''The main aim of the taskforce, the priority of it, is for the two plants to remain open.
''The mood is upbeat, the guys are still positive that everything can be done for the two plants to be saved.''
MSP and former steel worker John Pentland, who led a parliamentary debate on the issue on Wednesday, addressed those on the march.
He said: ''There is no doubt that our steel workers at Dalzell and Clydebridge are at the sharp end of unfair competition, where Chinese steel production pays less heed to working conditions, health and safety, and quality.
''I believe Scottish steel can have a future, and we must consider all the options to achieve that.
''We need to make sure the Scottish Government does what is needed to save our steel. We need a strategy to get work for the industry, with more work provided through procurement. The Government's taskforce can't be just a talking shop - it must deliver action.``
At its peak, steelmaking employed more than 10,000 people in plants and surrounding businesses in central Scotland, with the famous Ravenscraig site once the biggest producer of hot-strip steel in Europe.