Taskforce Set Up To Help Asylum Seekers
1 August 2018, 07:28 | Updated: 1 August 2018, 07:30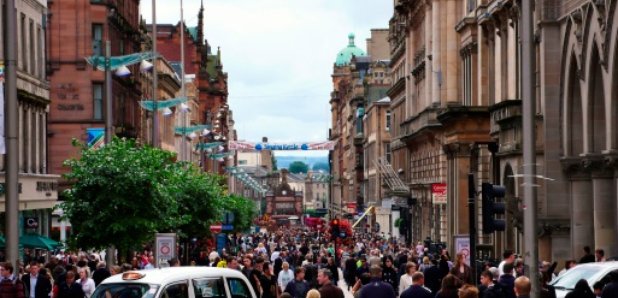 Council chiefs in Glasgow said they will establish a task force to help asylum seekers facing eviction as hundreds gathered in the city in a show of support.
Home Office contractor Serco has said it intends to evict up to 300 asylum seekers in the city who have been refused refugee status.
The public services group issued six of those affected with a notice that their locks will be changed within seven days on Monday.
Glasgow City Council said it was in the process of establishing a task force to respond to the "emerging humanitarian crisis" and has written to Home Secretary Sajid Javid urging him to instruct Serco to pause its plans.
Up to 500 people gathered in the city centre on Tuesday evening to protest against the move and show solidarity with refugees and asylum seekers.
Glasgow MPs Chris Stephens and Paul Sweeney were among the speakers at the demonstration on Buchanan Street where the crowd was led in chants of "refugees are welcome here".
The letter from council leader Susan Aitken to Mr Javid states: "A suspension of the immediate commencement of the programme would enable Glasgow City Council to establish what advocacy and support services are required to enable those asylum seekers affected to fully explore what legal processes or other options remain open to them.
"A suspension would further allow the city council and partners in the third sector to put in place the essential frontline services which will be required following the anticipated 300-plus evictions.
"In the meantime, Glasgow City Council is in the process of establishing a task force to respond to this emerging crisis. It will comprise council officers, other local government partners, third sector representatives and independent legal charities who will advise on the level of support we require to put in place for the individuals affected and the scale of the resources needed."
The letter adds: "Please reconsider your decision and allow us to work constructively with the partners who exist in the city to ensure no vulnerable people fall through the cracks due to the short timescale and consequent massive impact an immediate large scale programme of evictions will have."
Serco said it has been providing housing free of charge and without recompense from the Home Office, in some cases for months, for former asylum seekers with no right to stay in the UK.
The company said it is sympathetic to those affected but believes it has been "more than supportive" and has started legal proceedings for repossession as these residents "no longer have any right to continue to live in the property we provide".
Mike Dailly, of Govan Law Centre, said his solicitors are working with MPs, the local authority and charities to identify those affected with a view to raising legal proceedings to prevent summary evictions.
He said: "We are convinced that Serco are proposing to act unlawfully. And we will be taking cases before the Scottish courts.
"This is a complex area of law and it's very unlikely vulnerable people can just be summarily evicted in the way Serco propose."
A Serco spokesman responded: "We are confident that we are acting fully within the law and the requirements of our contract."
Tuesday's rally was organised by 24-year-old Lauren Crilly, who works at Kinning Park Complex community centre, after she read about Serco's plans.
She said: "The article made me very, very angry and I'm a believer in active citizenship.
"This shows that Glasgow is against this - that's something I knew, but I wanted Serco to see and I wanted Westminster to see."