Suspicious fire at Sikh Temple in Edinburgh
28 August 2018, 15:03 | Updated: 28 August 2018, 15:09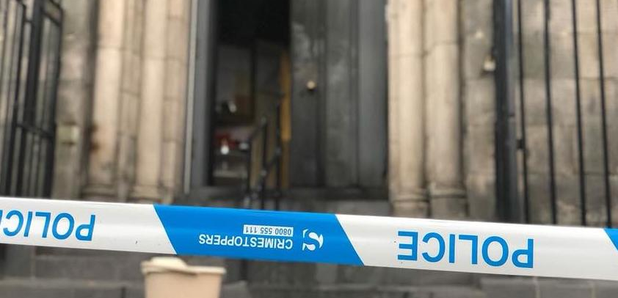 A deliberate fire at a Sikh temple in Edinburgh has caused "major" smoke damage.
The doors to the Guru Nanak Gurdwara in Sheriff Brae were set alight around 5am on Tuesday.
No one was injured but there is said to be significant smoke damage inside the building.
Police Scotland would not confirm reports it was targeted by a petrol bomb.
Firefighters extinguished the fire at the front door and officers are now investigating along with police.
A post on the Guru Nanak Gurdwara Edinburgh Facebook page said: "Someone tried to burn down the front door. There's alot of internal smoke damage, and access to Gurdwara sahib has been denied by police, until smoke clears and is safe to enter.
"Sri guru Granth Sahib jee's saroops (scripture text) are untouched, but Devan hall has major smoke damage.
"Please note access to Gurdwara sahib is not possible at this point, we will aim to keep Sangat updated as much as possible."
A Police Scotland spokeswoman said: "Police in Edinburgh were alerted to a fire at the Guru Nanak Sikh Temple in Sheriff Brae at around 5.05am on Tuesday 28th August.
"The Scottish Fire and Rescue Service attended and extinguished the flames at the front door. Some of the building's interior also sustained smoke damage.
"A joint investigation is currently underway to determine the full circumstances surrounding this incident."