Nicola Sturgeon 'would pay' for debate between Dunblane brother and Trump
24 May 2018, 16:20 | Updated: 24 May 2018, 16:25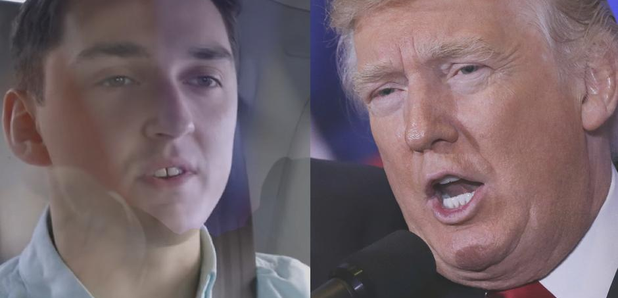 Nicola Sturgeon has said she would "pay money" to see a confrontation between the brother of a Dunblane massacre victim and Donald Trump.
The First Minister made the comments while speaking to Capital about meeting Alison Crozier and her son Jack, whose five-year-old sister Emma died in the 1996 primary school shooting.
The pair were invited to Holyrood having returned from the US to support relatives of the Parkland high school tragedy in Florida, as well as current students and campaigners.
Ms Sturgeon said: "It was a privilege to meet the Crozier family in person, having spoken to them down the line when they were in America, but the whole story of their trip to America, hooking up with the Parkland campaigners there, is really inspiring because you know, in Scotland, Dunblane was a tragedy - something that will never, ever be forgotten as a tragedy.
"Out of that came really positive change around gun laws - and if that example and that inspiration can help those who are campaigning for gun reform in America, then that will be another really positive outcome of the Dunblane tragedy."
The 1996 massacre saw 16 children and their teacher killed by a gunman who then turned the weapon on himself.
In its aftermath, new laws were introduced by Conservative and Labour governments which resulted in the banning of all cartridge ammunition handguns.
The moves came after pressure from bereaved families and their friends to ban private ownership of guns.
In March, Ms Crozier and her son travelled to the US where they spoke about the impact of Emma's death and the campaign which led to the UK introducing some of the strictest gun controls in the world.
Students at Marjory Stoneman Douglas High School have demanded tougher laws in the US after 17 people were killed in the shooting on February 14.
Ms Sturgeon told us she would meet the US president if he travelled to Scotland and give voice to the values shared by both countries.
She added: "I've always said that the values that have always underpinned the relationship between America and Scotland are what matters most and it would be those values that I would want to speak up for and make sure I voiced very strongly, and I think me, probably like most other people, would pay money to see a confrontation between young Jack (Crozier) and President Trump."