Sturgeon looks forward to events championing young Scots in 2018
31 December 2017, 06:21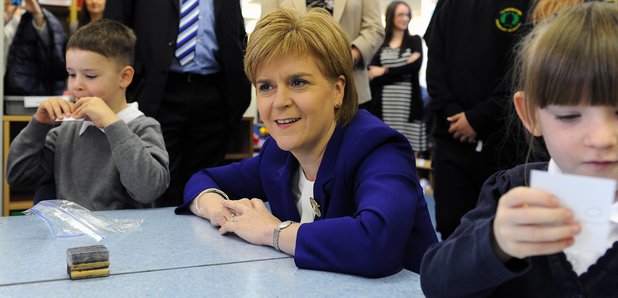 The new year will see a celebration of young Scots, with events held throughout 2018 to recognise their "incredible contribution" to the country, the First Minister has said.
Nicola Sturgeon focused on the Year of the Young People as she visited LGBT Youth Scotland ahead of Hogmanay celebrations.
She said: "I'm here because 2018 is Scotland's Year of Young People.
"We'll be celebrating young people, and the incredible contribution that they make to Scotland, in events the length and breadth of the country - from Shetland right down to the Scottish Borders.
"Young people have been at the heart of planning the year which - as well as being a great celebration in its own right - also symbolises our desire to make Scotland the best place in the world to grow up."
She added: "In 2018 we will also take steps to strengthen young people's rights, and ensure that they have an even louder voice in decisions about their own lives."
Alongside the Year of Young People, Ms Sturgeon also looked ahead to athletics' European Championships, due to take place in Glasgow in August.
It will be the biggest sporting event to be held in Scotland since the 2014 Commonwealth Games.
Ms Sturgeon added: "Major events make a significant contribution to our economy. We will do even more over the next year to promote economic growth, and to make Scotland a leader in new industries and new technologies.
"By investing for the future - and in particular by celebrating and supporting our young people - we're working to ensure that the years ahead are bright ones for Scotland.
"So my hope is that 2018 will be a fantastic year - for our young people, and for all of us."
Scottish Conservative leader Ruth Davidson also highlighted key events in her new year message, noting that while politics will continue, other events will "take centre stage".
"In 2018, I hope all of us will be inspired by the endeavour of our athletes, the warmth of our host city and the energy of the next generation. Scotland has a lot to look forward to," she said.
Her Tory colleague, Scottish Secretary David Mundell, focused on the need for the Scottish and UK governments to work together on Brexit, the economy and other issues.
"There are many challenges ahead of us but I am confident it can be a great year for Scotland," he said.
"As ever my door remains open to all those people and business who have a stake in Scotland's success. Let's work together as we look to the future."
Meanwhile, Scottish Labour leader Richard Leonard emphasised the need for more action on inequality in 2018, with the Year of the Young People offering a timely opportunity to demand change for poorer youngsters.
"The coming year will see Labour push the government even harder to make those desperately needed changes and make the Parliament work in the interests of the unemployed, the dispossessed, the homeless, those struggling in poverty, and all those whose lives are currently predestined because of where they're born," he said.
Scottish Liberal Democrat leader Willie Rennie called for more unity following the divisive politics of recent years.
"Let's hunt for what we have in common and make that work rather than always dwelling on our differences," he said.
Scottish Green Party co-conveners Maggie Chapman and Patrick Harvie said 2018 can be a year of progress on human rights and public services, and they pledged to continue to fight for "justice, solidarity and our shared environment".