Storm Barbara
21 December 2016, 11:37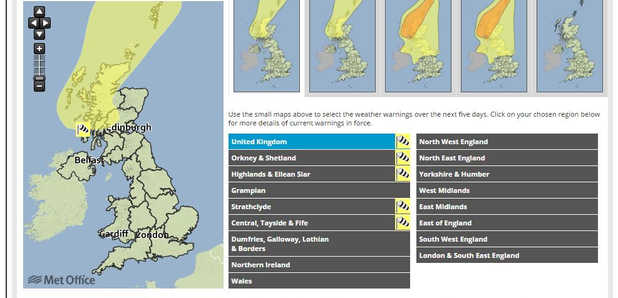 Storm Barbara is coming and The Met Office have issued a severe amber storm warning which lasts from midday on December 23 until 6am on Christmas Eve.
"Be prepared'' weather warnings are in place for Strathclyde now.
Before it arrives, here is some advice to prepare yourself:
*Secure items in the garden, like trampolines and wheelie bins.
*Park vehicles in the garage or clear of buildings, trees, walls and fences
*During a storm, IF you have to go out, avoid walking or sheltering near trees and buildings
* If you do have to travel, plan your journey, allow extra time and be prepared, for example by having emergency supplies should you be travelling by car
* Don't attempt repairs until the storm is over
* Remember to check on neighbours you think might need an extra helping hand
You can check out the latest forecast and weather from the Met Office here
Public Transport
When the bad weather hits, public transport is often hit with delays, cancellations and amendments to timetables. Whether you're travelling on the bus, trains or in the air, the latest information can be found at Transport Scotland or in the links below
Travel News
Heart will keep you up to date with the latest travel on air or use the links below to get the latest on Scotland's Roads or you can check out more at Traffic Scotland